When I was in Seminary in Israel, it was the first time I could really appreciate what Tu B'Shevat really meant. One could hardly move on Rechov Yaffo as there were vendors packing the streets selling plants, trees, shrubs and flowers.
Tu B'Shevat, the 15th of Shevat on the Jewish calendar — celebrated this year on Thursday, January 16, 2014 — is the day that marks the beginning of the "new year" for trees. This is the season in which the earliest-blooming trees in the Land of Israel emerge from their winter sleep and begin a new fruit-bearing cycle.
Legally, the "new year" for trees relates to the various tithes (ma'aser) that are separated from produce grown in Israel. These tithes differ from year to year in the seven-year shemittah cycle; the point at which a budding fruit is considered to belong to the next year of the cycle is the 15th of Shevat.
We mark the day of Tu B'Shevat by eating fruit, particularly from the species that are singled out by the Torah in its praise of the bounty of the Holy Land.
Figs, Dates, Pomegranates , Olives, Grapes(or raisins)wheat and barley
Wine or grape juice, both white and red
Here are some recipes with the sheva minim in the ingredient list
Feta Fig and Green Grape salad
2 tablespoons balsamic vinegar
1 tablespoon honey
Juice of 1/2 orange
Salt and freshly ground black pepper
1/4 cup extra-virgin olive oil, plus more for brushing
12 fresh figs, halved
4 ounces mixed greens
6 ounces feta, crumbled
1/2 cup chopped pistachios
1 cup green grapes, halved
Directions
Whisk together the vinegar, honey, orange juice and some salt and pepper to combine. Slowly whisk in the olive oil until emulsified. Set aside.
Brush the figs with some olive oil, season with salt and pepper and bake at 400, cut-side down, just until slightly wilted. Remove to a plate. Toss the greens with some of the vinaigrette. Transfer the greens to a platter and arrange the figs over top. Sprinkle with the feta, grapes and pistachios and drizzle some of the remaining dressing over top.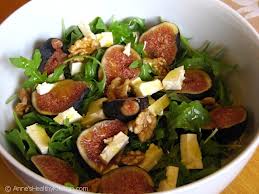 Feta Fig and Green Grape salad
Date muffins
adapted by epicurious.com
Streusel topping
1 cup flour
1 cup sugar
1/8 cup desiccated coconut (optional)
½ cup canola oil
MUFFINS
2 cups whole dates, pitted
3/4 cup boiling water
2 cups flour
2 1/2 teaspoons baking powder
1/2 teaspoon salt
½ cup canola oil
3/4 cup packed dark brown sugar
2 eggs
1 teaspoon vanilla
Preparation
To make the streusel topping:
In a medium bowl, stir together the flour,sugar and coconut. Using a fork, stir oil until well combined and mixture begins to hold together but is crumbly.
To make the muffins:
Preheat the oven to 375°F. Grease a 12-cup muffin tin. Place the dates in a shallow bowl (in a single layer if possible), pour the boiling water over them, and soak for 15 minutes. Transfer the dates and soaking liquid to a food processor and puree until almost smooth but a few pea-sized fruit pieces remain. Set aside to cool slightly.
In a medium bowl, combine the flour, baking powder, and salt. Set aside.
In the bowl of an electric mixer, mix together the oil and brown sugar. With the motor running, mix in the eggs, one at a time. Add the vanilla. Add half of the flour mixture and mix until moistened. Follow with the date puree, and when thoroughly combined, mix in remainder of the flour mixture. Scrape down the sides and give a final stir with a spatula to make sure all ingredients are thoroughly combined. Divide the batter among the muffin cups. Top with the streusel and press down gently to adhere. Bake for 20 to 25 minutes.



Date muffins
Chocolate Covered Pomegranate Clusters
1 cup (8 ounces) pomegranate arils
2/3 cup (4 ounces) good quality chocolate. (I like Noblese)
¼ teaspoon curry powder (optional)
¼ cup fresh, mint stemmed and julienned
Preparation
Melt chocolate chips in a heavy-bottomed small saucepan over low-to-medium heat stirring frequently, 2 to 3 minutes.
Remove saucepan from the burner. Add pomegranate seeds and stir in curry powder.
Use a spoon to scoop out small chocolate-covered clusters, and place each on a wax paper lined plate. Garnish with mint. Refrigerate until chocolate is firm, about 15 minutes.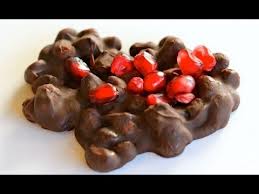 Garlic-Herb Marinated Olives
Ingredients
1 tablespoon dried oregano
6 cloves garlic, peeled and smashed
1/2 cup red-wine vinegar
2 teaspoons extra-virgin olive oil
2 cups Kalamata olives
Preparation
Combine oregano, garlic, vinegar and oil. Toss with olives.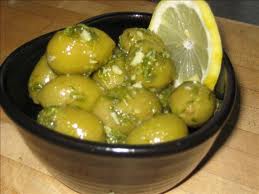 Very Easy Mushroom Barley Soup with Abeles and Hyman Hot Dogs
1/4 cup olive oil
1 cup chopped onion
3/4 cup diced carrots
1/2 cup chopped celery
1 teaspoon minced garlic
6 cups chicken broth
1 pound sliced fresh mushrooms
1 pkg Abeles and Hyman hotdogs sliced thin on a bias
3/4 cup barley
salt and pepper to taste
DIRECTIONS:
Heat the oil in a large soup pot over medium heat.
Add the onion, carrots, celery and garlic; cook and stir until onions are soft.
Stir in mushrooms and hot dogs continue to cook for a few minutes.
Pour in the chicken broth and add barley.
Bring to a boil, and then reduce heat to low. Cover and simmer until barley is tender, about 50 minutes.
Season with salt and pepper before serving.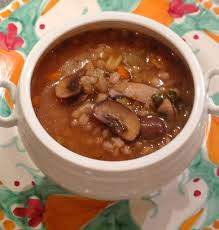 Whole-wheat crescent rolls
2-cup warm water
4 tablespoon honey
2 pkg active dry yeast (about 5 teaspoons instant dried yeast)
3 cups all-purpose flour
2-cup whole-wheat flour
1 tablespoon salt
In a bowl add 2 cups of water and sprinkle in the yeast then add the honey. Let stand until foamy.
After it has foamed, add in the flours and salt then mix by hand until a dough ball forms.
Turn onto a slightly floured surface and knead until smooth.
Let stand and rise for 45 minutes.
Then cut into half. Roll one half into a large pizza like circle and cut up like a pizza slices.
Take each "slice" roll up like a rogelach
Bake for 25 minutes at 350 until slightly brown.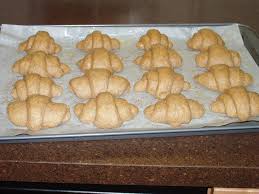 Whole-wheat crescent rolls