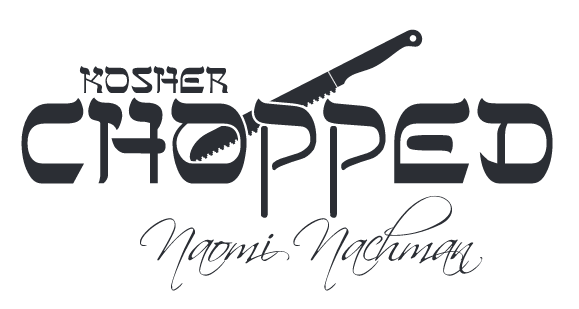 Naomi Nachman is the pioneer of Kosher Chopped competitions, taking the concept of personalized cooking competitions to a whole new level. She has hosted hundreds of these cooking competitions, providing interactive entertainment for schools, camps, private clients, birthdays, anniversaries, bar and bat mitzvas, and as a team building exercise for corporations.
What is Kosher Chopped?
Building on the theme of the well-known Chopped series on the Food Network, Naomi brings this experience to your organization or event. Naomi takes care of everything from soup to nuts, and she personally runs and organizes everything. She helps you prepare your space for the event, provides the ingredients, and makes sure the event runs smoothly.
Kosher Chopped competitions bring people together. These team building experiences are designed for groups of any size and meant to include everyone in the fun.
Each person plays a part in the competition, and each event is customized based on the client's goals.
How it Works
The participants will be divided into teams and each team will have to cook with a basket of mystery ingredients and shared pantry items. (All ingredients, utensils, and cooking tools used are kosher.)
Each team will have 30 minutes to create a dish using the mystery ingredients. Once the 30 minutes are up, the teams will present their culinary creations to a panel of judges. These judges will each taste the prepared dish and consult amongst themselves to determine the winning recipe. The dishes will be judged on taste, creativity and presentation.
Once the winner is selected, that team will receive recognition (and prizes, if desired) in front of the entire group.
The Kosher Chopped Competition is a great exercise in team building, creativity, and celebration, with just the right amount of competitiveness and camaraderie.
To get started, email kosherchopped@gmail.com!
Interactive Team Building for Corporations
Add some fun and flavor to your next team building event. Create a culinary conversation that will bring people together through food, in a fun environment.
Kosher Chopped Competition Event Package Includes:
Naomi to produce and MC the event
Ingredients for mystery basket and pantry
Dishes and cooking equipment
Optional: Naomi can also provide custom aprons for all participants with a customized logo, and custom-made chopping boards.
Contact Naomi today, and give your next event the kind of flavor you're looking for – email her at kosherchopped@gmail.com.
FAQs when hosting a Kosher Chopped Competition with Naomi
There is a 50% deposit due at the time of booking your event. The balance is due the day of the event, plus the cost of ingredients and customized items.
What about food allergies?
If you have clients or co-workers with allergies please let Naomi know prior to your event and she will work with you to make accommodations.
Who is the judge? Can Naomi be the judge?
No, Naomi is running the event and making sure it goes smoothly. The judges are usually picked by the host in advance from among the attendees.
Do I need a kitchen to host this in?
No, you can do them in a backyard. Naomi will provide burners. She's done these events in convention centers, backyards, living rooms and more. All you need is enough space to set up the event.
How many people can play on a team?
We recommend 1-10 people per team.
What ages is Kosher Chopped good for?
Really 12 and up, but sometimes younger children can join a team with older players. It's a bit open to your judgement.
Do I need electricity?
No, Naomi can bring burners that run on butane gas cans.