Vegetable Soup with Kale, Apple and Cabanossi Sausage
Well, the panic is in the air already.  The first big blizzard of the season has been predicted.  For me, that means… make soup!
I am recipe-testing meat products for Hod Golan.  One of the products is Chicken Cabanossi (a dried spiced sausage).  I put together this recipe with a couple of ingredients I had in the house, which incorporates the Chicken Cabanossi as one of the primary ingredients.  All I needed from my local kosher grocery (Gourmet Glatt) to make this soup was some pre-checked kale.
I served this recipe for to my family for dinner and everyone really loved it.  I made a huge vat of it and will freeze what is left over.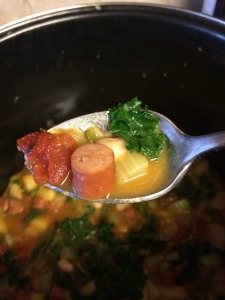 Vegetable Soup with Kale, Apple and Cabanossi Sausage
Ingredients
1 tablespoon extra-virgin olive oil
1 cup diced onion
1 large Jalapeno pepper, seeded with ribs removed
1 cup diced celery
1 cup gala apples, peeled and chopped
1 6oz. package Chicken Cabanossi from Hod Golan, sliced into ½ inch rounds
1 bunch kale, chopped, about 6 cups
2 cloves garlic, minced
1 teaspoon cumin
4 cups chicken or vegetable broth
1 can (14.5 ounces) diced tomatoes, undrained
1 can (15 ounces) white beans, such as Great Northern, drained and rinsed
1/2 teaspoon salt, or to taste
1/4 teaspoon ground black pepper
Dash sriracha (optional)
In a large soup pot heat olive oil over medium-high heat. Add onions, pepper, celery, apples and sausage. Sauté, stirring, until onion is just tender.
Reduce heat to medium-low. Add kale, garlic and cumin; cover and continue cooking for 2 minutes.
Add remaining ingredients; cover and cook for 15 to 20 minutes, until vegetables are tender.
Taste and adjust salt pepper and cumin, as needed.