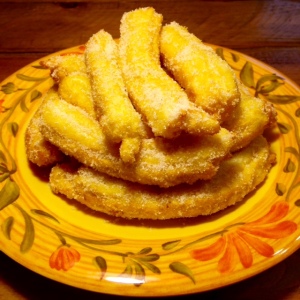 This past week I broadcast my radio show, Table For Two with Naomi Nachman, from the Gourmet Glatt Emporium in Cedarhurst. It is always fun doing a show with a large audience. We had a great line-up of guests, including Seth Leavitt (who owns Abeles & Heymann), Jay Buchsbaum from Royal Wines, Nate Kruman from The Burning Bush Hot Sauce, and Malkie Hirsch from Kiss the Kosher Cook Facebook group.
For our cooking demo segment, we had kid Chef Eitan Bernath of "Chopped" fame, who is climbing to the top of the culinary world at just age 12!
We discussed Eitan's passion for cooking and his early beginnings, as well as what it was like for him to compete on national television. Eitan demonstrated with ease, in front of everyone, the art of making fresh hot chuorros (a Spanish style doughtnut).
Eitan has kindly shared his recipe for fresh hot chuorros with us all, which I am including below.
To watch the show online go the Nachum Segal Network Channel on YouTube or click here.
Chef Eitan Bernaths Churro Recipe
1 cup water
2-1/2 tbsp sugar
1/2 tsp salt
2 eggs plus 1 yolk
1 1/4 cup flour
Canola oil, for frying
Cinnamon and sugar
In a small saucepot, combine the water, sugar and salt and bring to a boil.
Remove from the heat and add the flour all at once, stirring with a wooden spoon. Put back over low flame and cook until the dough forms a ball, about 2-3 minutes. Remove from the heat and place in a mixing bowl.
Using an electric mixer, add the eggs, one at a time until fully incorporated. Place the dough in a pastry bag with a large star tip.
Heat the oil in a saucepot to 360 degrees. Pipe the churros into the hot oil and cook until golden brown. Remove from the oil, drain on a paper towel and roll in cinnamon sugar.