Kale Salad with Miso Hummus Dressing, Butternut Squash Croutons
1 bunch kale leaves, tough center stems removed, washed well, dried and torn into pieces.
1 small butternut squash, peeled and cubed
Olive oil
Garlic powder
paprika
Kosher salt
Dressing
1 tablespoon brown miso paste. (you can also use yellow or red miso)
2 oz hummus
from 1 lemon (fresh)
1/8 cup extra virgin olive oil
Water if needed to thin it out
Place dressing ingredients in a blender and blend until smooth or mix well by hand.
Butternut Squash Croutons
Preheat oven to 400ºF
Place butternut squash on a single layer on a baking sheet lined with parchment paper. Sprinkle evenly with a little bit of kosher salt, garlic powder and paprika to taste and drizzle olive oil over it and toss to coat well. Roast till soft and the edges are tinged brown.
Take the kale and place in a salad bowl and pour in the dressing then massage the dressing carefully all over the kale mixing and tossing. Do this at least 1 hour before serving.
Right before serving toss in the croutons.
extra toppings can include: chick peas, pomegranate,  feta or goat cheese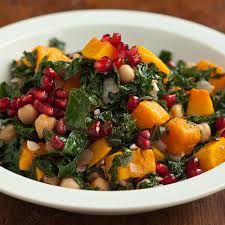 Note: others top