I was visiting California last year with my husband and we spent shabbat in San Diego. We stayed at a friend of a friend and she made the most incredible shabbat dinner for us. She was a wonderful cook and baker. After dinner we discussed all the different kids of challahs she made including a pumpkin challah.  I became obsessed with the idea of making my own recipe for pumpkin challah and the results were a big hit.  I first served it for THANKSGIVUKAH weekend last year.  Since that was my debut weekend I wanted a  funky topping so I added in mini marshmallow into the streusel topping. (the topping is optional)
4 cups warm water
2 cups sugar
2 Tablespoon dry yeast
6 eggs
1/2 cup coconut oil or you can use canola instead
2 cups canned pumpkin
5 pounds hi gluten flour, plus up to one cup extra
1 Tablespoon salt
2 beaten eggs whites for egg wash
In a large mixing bowl (or bowl of a magic mill) place water, sugar and yeast.  Let the yeast foam for a few minutes.
Meanwhile while the yeast is foaming, mix together in a smaller bowl, eggs, oil and pumpkin.
Once the yeast has foamed, add the pumpkin mixture to the yeast mixture and mix together by hand or in the machine for about a minute. While the machine is running, slowly add half the bag of flour, then the salt, then the remaining flour. The mixture will start to form into a dough ball.  It may be sticky so you can slowly add up to one cup more of flour.
Once the dough isn't sticky leave it to rise for 2 hours covered in the bowl.
After 2 hours pull of a fist full and say the bracha for hafrashat challah.
The batch will make 6 challahs. Divide dough into 6 even pieces and then braid to form the challahs.
Place the challahs on a baking sheet lined with parchment paper. Brush with egg wash and bake for about 45 minutes at 350 until the challah looks golden brown.
If you are adding on the topping pat in on top of the challah after the eggwash right before it goes in the oven.
Tip: An easy way to tell if the challah is cooked through, carefully tap the bottom of the challah.  If it sounds hollow its fully cooked through.
Streusel Topping (optional)
1 cups flour
1 cup sugar
1/2 cup cocont or canola oil
1 cup mini marshemellow
Mix together in a small bowl with a fork till crumbs form.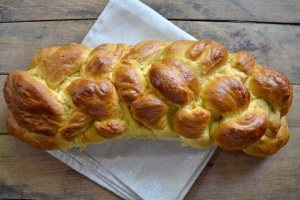 picture by Melinda Strauss kitchen-tested.com