Every Rosh Hashanna, I prepare a beautiful simanim platter reflecting the variety of yehi ratzons that we recite. To enhance the presentation, I buy multi-section platters or plates and I place each of the simanim dishes in separate compartments, so that each siman is highlighted.  I serve it with a mini-fork and I serve the soup (yes, soup – see below) in a shot glass.
We have the book Apples and Pomegranates:A Family Seder For Rosh Hashana and we go around the table each read a different Yehi Ratzon. You can order it on amazon or pick it up at your local Judaica Store.
The Simanim
Apples and Honey
…that we have a sweet and good year
The apple dipped into honey is the best known siman.  Choose delicious apple varieties like grapple, honey crisp, fuji or gala.
If you prefer to put out apples that have been cooked or baked with sugar or honey — golden delicious, granny smith, cortland or macintosh are recommended.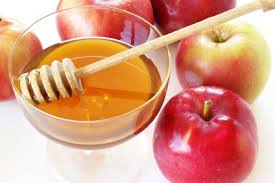 Temarim  (dates)
… that our enemies  be  consumed
Date Muffins (Adapted from epicurious.com )
Ingredients:
Crumb topping:
1 cup flour
1 cup sugar
1/8 cup desiccated coconut (optional)
½ cup canola oil
Muffins:
2 cups whole dates, pitted
3/4 cup boiling water
2 cups flour
2 1/2 teaspoons baking powder
1/2 teaspoon salt
1/2 cup canola oil
3/4 cup packed dark brown sugar
2 eggs
1 teaspoon vanilla
To make the crumb topping:
In a medium bowl, stir together the flour, sugar and coconut.  Using a fork, mix in oil until ingredients are well combined and mixture begins to hold together (but is still crumbly).
To make the muffins:
Preheat the oven to 375°F. Grease a 12-cup muffin tin. Place the dates in a shallow bowl (in a single layer if possible), pour the boiling water over them, and soak for 15 minutes. Transfer the dates and soaking liquid to a food processor and puree until almost smooth  (with  a few pea-sized fruit pieces remaining). Set aside to cool slightly.
In a medium bowl, combine the flour, baking powder, and salt. Set aside.
In the bowl of an electric mixer, mix together the oil and brown sugar. With the motor running, add the eggs one at a time. Add the vanilla. Add half the flour mixture and mix until moistened. Follow with the date puree, and when thoroughly combined, mix in remainder of the flour mixture. Scrape down the sides and give a final stir with a spatula to make sure all ingredients are thoroughly combined. Divide the batter among the muffin cups. Top with the crumb topping and press down gently to adhere. Bake for 30 minutes.

Rimon (pomegranate)
…that our merits increase as the seeds of a pomegranate
Pomegranate Salad
Ingredients:
1 head romaine lettuce
1 pomegranate, seeded
1 jicama, peeled & cubed
1 avocado peeled & cubed
1 mango peeled & cubed
Dressing (can be made days in advance):
1/4 cup apple cider vinegar (optional –can be omitted by those who don't eat vinegar during Tishrei)
1 teaspoon salt
1/4 cup pomegranate juice
1 teaspoon dry mustard
1/2 cup sugar
1/2 red onion diced finely
1/2 cup olive oil
Salad:
Wash and dry lettuce leaves. Carefully remove seeds from the pomegranate (pomegranate juice stains). Combine lettuce, avocado, pomegranate seeds and jicama in a salad bowl.  Just before serving, sprinkle some of the dressing on the salad and toss.
Dressing:
Place onion in a food processor and finely chop.  Add all ingredients except oil and pulse.  While machine is running, slowly add oil in one steady stream. Pour dressing into a jar and store in refrigerator.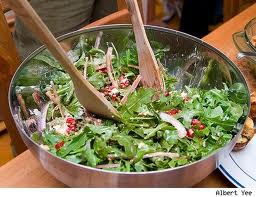 Roviah (green beans)
…that we have increased blessings in the new year Green Beans with Mushrooms
Ingredients:
4 cups trimmed and cut (1 inch long) green beans
1 teaspoon vegetable oil
1 cup sliced mushrooms (I use a variety of cremini and shitake)
1/4 cup finely chopped white or yellow onion
2 tablespoons extra virgin olive oil
2 tablespoons chopped fresh basil
Salt and freshly ground black pepper
In a pan with a steamer insert, steam the green beans until fork-tender, 7 to 10 minutes. Drain and set aside.
In a skillet over medium-high heat, heat vegetable oil until it starts to shimmer. Add mushroom slices and sauté until they lose their moisture, 3 to 4 minutes, stirring constantly so they don't burn. Reduce heat to medium, and add the onion, olive oil, stir and cook until onions begin to brown, 3 to 4 minutes.
Stir in the drained green beans until they are evenly coated with oil and cook until warm. Sprinkle fresh basil over beans and mushrooms, and season to taste with salt and pepper.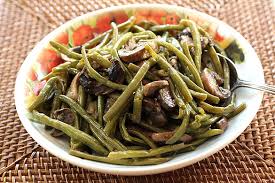 Kera (gourd)
…that the decree of our sentence be torn asunder and our merits proclaimed
Roasted Pumpkin
Ingredients:
1 small pumpkin (or butternut squash) peeled and cubed. (I buy mine already peeled and cubed.)
3 tablespoons olive oil
sea salt
ground clove
ground cinnamon
ground nutmeg
Heat oven to 400° F. Using a large metal spoon, scoop out the seeds and insides of the pumpkin. Use a sharp chef's knife to cube the pumpkin (about 1-inch pieces).
Place pumpkin slices on baking sheet. Drizzle with olive oil and rub on both sides of pumpkin. Season with salt, and spices. Roast for 20-25 minutes, depending on thickness of pumpkin slices.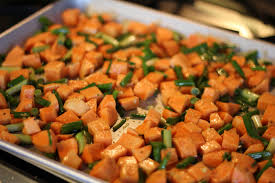 Silka (beet root)
…that our adversaries be removed
Beet Hummus
Ingredients:
1/2 pound beets (about 4 medium sized beets), scrubbed clean, cooked, peeled, and cubed
2 Tablespoons tahini sesame seed paste
5 Tablespoons lemon juice
1 small clove garlic, chopped
1 Tablespoon ground cumin
1 Tablespoon lemon zest (from approximately 2 lemons)
Generous pinch sea salt or Kosher salt
Fresh ground pepper to taste
Cut off tops of beets and scrub the roots clean. Put them in a covered dish with about 1/4-inch of water and place in a 375°F oven. Cook until easily penetrated with a knife or fork. Alternatively, cover with water in a saucepan and simmer until tender, about 1/2 hour. Peel when cool.
Place all ingredients in a food processor (or blender) and pulse until smooth. Taste and adjust seasonings and ingredients as desired.
Chill and store in the refrigerator for up to 3 days or freeze for longer storage.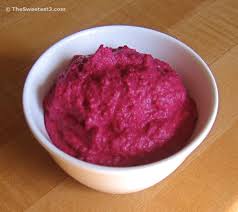 Kerateh  (leeks)
… that our enemies be cut off
Potato Leek Soup
Ingredients:
2 tablespoon canola oil
10 russet potatoes, peeled and cut into large pieces
6 leeks (whites only), thoroughly washed and sliced
1 Tablespoon flour
6 cups vegetable stock, approximately. (I use Trade Joe's soup stock in the box.)
Salt and freshly ground pepper
In an 8-quart stock pot, sauté leeks until soft.  (Don't allow them to burn.) Add flour and mix continuously for 2 minutes on low flame.  (This will help thicken the soup.)
Put potatoes and stock into the pot. Sprinkle with salt and pepper. Boil until the potatoes are soft, 15 to 20 minutes.
When potatoes are soft, use an immersion blender until the soup is smooth and simmer until the soup has thickened, about 20 minutes.
Note:  To avoid a too-watery soup, add only enough stock to cover potatoes.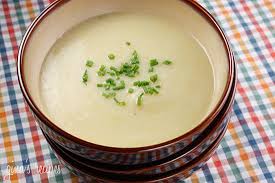 Head of the Fish
… that we be as the head and not as the tail
This one is a little tricky at our house, since having an actual fish head on the table makes us all a bit queasy. Instead I use this cut template below out of a fish head, mount it on a tooth pick and stick it into a slice of gefilta fish.
Of course, when I was growing up, my parents always had a salmon fish head on the table. So if you'd rather go the traditional route—and I expect most of you will – try doing it my grandmother's way. Apparently, it was delicious. (I wouldn't know!)
Stuffed Salmon Head
Clean out a large salmon head.
Fill with gefilte fish mixture (homemade or defrosted supermarket roll).
Place in pot with onion, celery stalk and carrot.
Boil in seasoned water for two hours.