I am so excited — it's Rosh Hashana soon. I love Tishrei for so many reasons, among which I love an inspirational dovening, getting a new outfit, and trying out new recipes. My kids love eating pomegranates on Rosh Hashana. I was asked several years ago to do a cooking class for Rosh Hashana and one of my daughters suggested putting in pomegranates into the salad instead of croutons. I thought that was a great idea and took it to the next level by adding pomegranate juice into the dressing too.
The roast is one of my favorite meats to eat and I love it rare. It freezes really well too. I try to prepare a few dishes on Rosh Hashana that easily doubles so I can freeze one of them for Sukkot. This roast is one of those.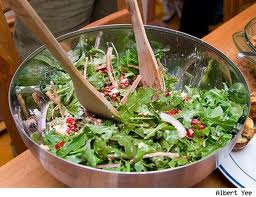 Pomegranate Salad
DRESSING (can be made days in advance):
1/4 cup apple cider vinegar (optional if you don't eat vinegar during tishrei)
1 tsp. salt
1/4 cup pomegranate juice
1 tsp dry mustard
1/2 cup sugar
1/4 red onion diced finely
1/2 cup olive oil
SALAD (make fresh):
1 head romaine lettuce
1 pomegranate, seeded
1 jicama, peeled & cubed
1 avocado peeled & cubed
1 mango peeled & cubed
Preparation:
DRESSING:
Place onion in a food processor and finely chop. Add in all ingredients except oil and pulse. Then while machine is running, slowly add oil in one steady stream.
Pour dressing ingredients into a jar.
Store in the refrigerator.
SALAD:
Wash and dry lettuce leaves.
Carefully (pomegranate juice stains), remove seeds from the pomegranate.
Combine lettuce, avocado, pomegranate seeds and jicama in a salad bowl.
Just before serving, sprinkle some of the dressing on the salad and toss.