Last week, after all the Chagim were over, I was on the "That's Life" segment with Miriam L. Wallach on the Nachum Segal radio network. Our topic was the dreaded words kids hear when they ask "what's for dinner?" Inevitably, the response is "LEFTOVERS!!!" After Yom Tov or even after this past Shabbat, we have so much leftovers and we feel so badly throwing it out. In order to make it more palatable, I try not to call it leftovers but rather reinvention.
Take, for instance, my grilled vegetable platter that I served for lunch on Shabbat. On Monday morning for my husband's lunch, I used the leftover vegetables from the platter in a wrap with some pesto sauce and, voila, we now have a grilled vegetable pesto wrap. In Manhattan, you can get charged $10 for a sandwich like that.
To use up leftover chicken, I make a large pot of vegetable soup containing all the unused vegetables, such as zucchini, cauliflower, sweet potato and onion, and I throw in some of the leftover chicken that I shredded up. The chicken adds flavor and the soup usually gets eaten up in a jiffy!
Below is an easy stir-fry recipe to use up leftover vegetables, chicken and, if you have leftover roast, you can use that too. If you are low on vegetables, you can throw in some bodek broccoli or cauliflower too.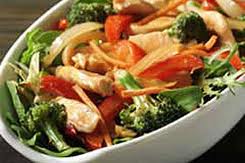 Easy Chicken Stir-Fry
You can choose any vegetable you like. You can also use tofu or salmon instead to make it vegetarian.
Serve with brown rice on the side
Ingredients
2 tablespoons canola oil
1 red bell pepper, cored, seeded, and julienned
1 yellow bell pepper, cored, seeded, and julienned
1/2 cup thinly sliced red onion
1 cup half-moon sliced yellow squash or zucchini
1 cup small broccoli florets (or pkg frozen bodek)
Left over chicken, or roast, shredded
1 clove garlic, minced
1/2 cup teriyaki sauce
2 cups sliced bok choy
1/4 teaspoon freshly ground black pepper
1/4 teaspoon kosher salt
2 tablespoons sesame oil
Directions
Start by preparing and cutting all the vegetables and measuring your ingredients so that they are ready to go. Once you begin stir-frying, it goes very quickly.
In a wok or large skillet, heat canola oil over high heat. Add the peppers and onion while stirring constantly. While continuing to stir, add successively the squash, broccoli, chicken, garlic, and teriyaki sauce. Cook, stirring, constantly for 2 minutes. Add the bok choy, sprouts, pepper, and salt and cook, stirring, until crisp-tender, about 2 minutes more.
Stir in sesame oil and remove from heat. Serve immediately.