I recently was on the radio with Host Miriam L. Wallach on her "Thats Life" segment on the Nachum Segal Show. We discussed all types of dairy dishes to cook for Shavuot. I promised to post some of the recipes. Here is the first in the series.
(This is a family favorite of ours.)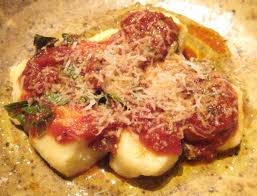 RICOTTA GNOCCI IN FRESH TOMATO SAUCE
1 pound firm ricotta cheese
1 cup finely grated parmesan cheese
½ cup plain flour
2 eggs, beaten lightly
1 tablespoon extra virgin olive oil
4 medium tomatoes, chopped coarsely
6 scallions, sliced thinly
2 tablespoons coarsely chopped fresh oregano
2 tablespoons extra virgin olive oil, extra
½ cup shaved parmesan cheese
1. Bring large saucepan of water to boil.
2. Meanwhile, combine ricotta, grated parmesan, flour, eggs and oil in large bowl. Drop rounded tablespoons of mixture into boiling water; cook, without stirring, until gnocchi float to surface. Remove from pan with slotted spoon; drained, cover to keep warm.
3. Combine tomato, scallions, oregano and vinegar in medium bowl. Top warm gnocchi with fresh tomato sauce; drizzle with extra oil, top with shaved parmesan.