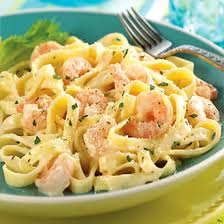 This recipe is a twist on this classic dish. Traditionally, Fettuccine Alfredo is a pasta dish made from fettuccine pasta tossed with Parmesan cheese and butter. As the cheese melts, it emulsifies the liquids to form a smooth and rich coating on the pasta.
My husband loves Fettuccine Alfredo and was always ordering it when we would go out to restaurants. I figured that I could come up with my own recipe for our family.
I took this classic and turned it into a meal with some protein and a vegetable. My children love the creamy mixture of the pasta together with the salmon. They even eat the broccoli too! If your family doesn't like fish, you can serve the pasta without anything but the sauce. You can also use a variation of additions to the pasta. For instance, you can use peas, sautéed mushrooms or grilled tuna. Find your inner chef and let your imagination run wild!
NOTE: This dish was named by an Italian restaurateur at his restaurant Alfredo alla Scrofa in Rome
Fettuccine Alfredo
Ingredients:
12 oz. RONZONI Fettuccine, uncooked
1/2 cup (1 stick) butter
1 cup heavy cream, at room temperature
3/4 cup grated Parmesan cheese
1 teaspoon kosher salt and pepper to taste
2 pound side salmon cooked and flaked (recipe follows)
2 pound bag frozen broccoli florettes
Instructions:
Cook pasta according to package directions.
In a large sauté pan, melt the butter. When the butter has melted add the heavy cream and bring to almost a boil.
Add the cheese and stir until combined.
Simmer on very low heat for 10 minutes, which will allow the sauce to thicken a little. Then add salt and pepper to taste.
Toss the cooked pasta into the sauce and add in flaked salmon and broccoli.
Salmon
Place 2 pound fillet of Salmon on a cookie sheet lined with parchment paper. Season with 1/4 teaspoon salt, crushed black pepper, 1 tsp of garlic powder, 1 teaspoon dried dill, drizzle with a little tablespoon olive oil and squeeze some 1/2 fresh lemon juice over it. Bake at 350 for 20 minutes. When it cools a little, flake it into the prepared pasta dish.
Broccoli
Place broccoli on a cookie sheet lined with parchment paper drizzle with olive oil and season with a little kosher salt. Bake for 15 minutes at 400. When cooled fold into the pasta dish.