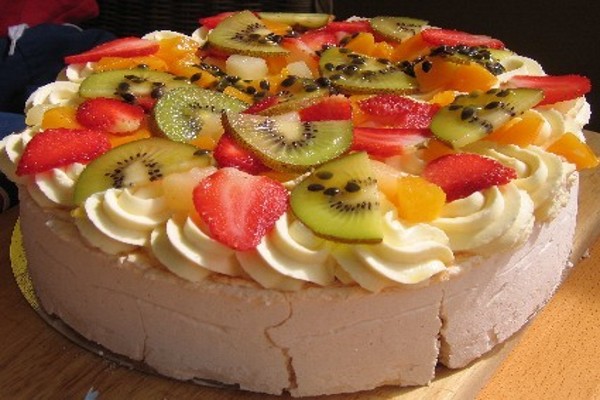 I am writing this at my parent's living room table in Sydney, Australia. Pesach has now "passed over" (sorry I couldn't resist), and we are enjoying the last few days of our down-under Pesach vacation. I could not resist using an Australian recipe while writing the article here. This was always my favorite dessert as a child growing up in Australia. Every time I come back, my mother has it waiting for me.
I did some research on this famous Aussie dessert to share with my American readers. I love learning about the history and origins of food.
A chef by the name of Bert Sachse at the Esplanade Hotel in Perth, Australia is reportedly the first person who came up with the dish. The dessert is called the "Pavlova" (or as it's called colloquially here in Australia, "Pav") and was created in honor of the Russian dancer, Anna Pavlova, when she toured Australia and its environs in the 1920s.
Pavlova is made by beating egg whites to a very stiff consistency before folding in caster sugar (or in American lingo, superfine sugar), white vinegar, cornstarch, and sometimes vanilla essence, and then slow-baking the mixture, similarly to meringue. This makes the outside of the Pavlova a crisp crunchy shell, while the middle remains soft and moist. The Pavlova's internal consistency is completely different from that normally associated with meringue, having a soft, marshmallowy texture. This difference is due to the addition of cornstarch, the use of which is the defining feature of a Pavlova recipe.
Pavlova is traditionally decorated with a topping of whipped cream and fresh soft fruit such as kiwi, passionfruit, and strawberries.
The recipe below is a classic, but simplified version, for this fabulous dessert.
Pavlova:
4 egg whites
1 cup superfine sugar
1 teaspoon vinegar
2 teaspoons corn flour, sifted
1. In bowl of an electric mixer beat egg whites until soft peaks form.
2. Add sugar, vinegar and sifted corn flour and beat until soft and glossy.
3. Cover a baking tray with parchment paper.
4. Place the meringue mixture onto paper and shape into a large circle leaving the center slightly hollow.
5. Bake at 265 F for 11/2 hours or until crisp on the outside.
6. Turn off oven and leave Pavlova to cool inside oven with the door ajar.
Garnish with whipped cream and slices of fresh strawberry.