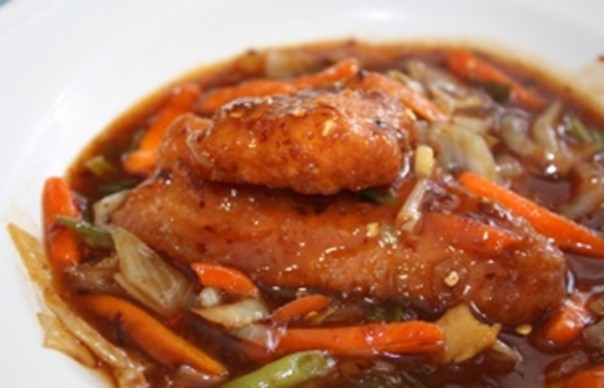 Frying the Tilapia:
1-2 pounds Tilapia cut in half lengthwise
2 Tablespoons curry powder
½ cup corn starch
Salt and pepper
Oil for frying
Rinse then pat the fish dry. Season with salt and pepper. In a small bowl mix the cornstarch and curry together. Dip fish in mix and shake off excess cornstarch.
Heat oil in a sautee pan and pan sear the fish until golden and crisp. Drain on absorbent paper and set aside.
Prepare the sauce:
2 onion cut into rings
2 cloves garlic
1-cup ketchup
¾ cup brown sugar
Pinch cinnamon
1 can pineapple chunks with liquid
4 carrots sliced into rings
1 ½ Tablespoons corn starch
2 cups water divided
In the same sauté pan, place onions and carrots until cook until soft. Add garlic and stir for 2 minutes. Add ketchup, pinch cinnamon, brown sugar, can of pineapple chunks plus the liquid, and ½ the water. Bring to boil and simmer for 5 minutes. Combine the cornstarch and remaining water until water is dissolved and add to simmering sauce. Bring back to boil until sauce thickens stirring constantly. Season with salt and pepper to taste.
Place fish in a 9×13 pan and pour over sauce and bake for 20 minutes at 350 uncovered.