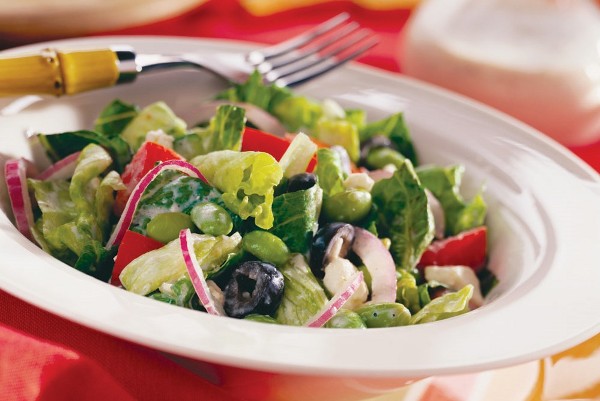 I developed this recipe a few years ago from a friend who based it on a recipe she read in a community-published cookbook. They are my favorite kind of cookbook. People put forth their best recipes when they participate in these types of community or charitable projects, and many such organizations publish fantastic, first-rate cookbooks. I have gotten some of my best recipes over the years from them. When I was a newly-wed, I used to create most of my dinners from a community-generated cookbook. At my bridal shower, a friend gave me a cookbook made through her son's Yeshiva and the quality of the book and the recipes were amazing. That got me started on my voyage of cooking; it brought out my passion to cook which I didn't know I had.
This salad is a beauty as the say down under. I always double the dressing and keep it in the fridge. For the salad I use different vegetables depending what's in the house at the time. I have even thrown in deli, left over shredded chicken, tuna, even feta cheese. I also like crunch so you can use, sunflower seeds, terra chips, or asian noodles.
Vegetable Salad:
2 heads romaine lettuce, shredded
1 red onion, sliced
2 avocado, cubed
1 mango, cubed
1 red pepper, diced
1 cup cherry tomatoes, halved
1 can hearts of palm, sliced
Hand full honey glazed pecans
Hand full of craisins
Dressing:
½ small red onion
1-teaspoon salt
1 teaspoon dry mustard
4 Tablespoon cider vinegar
½ cup sugar
1 teaspoon poppy seeds
½ cup olive oil
Place onion in a food processor with the "S" blade and chop until very fine. Add all the ingredients except the olive oil and blend in with the onion for 10 seconds.
While the machine is running pour the oil in a slow and steady stream. This will help emulsify the dressing (thicken) and stop it from separating.