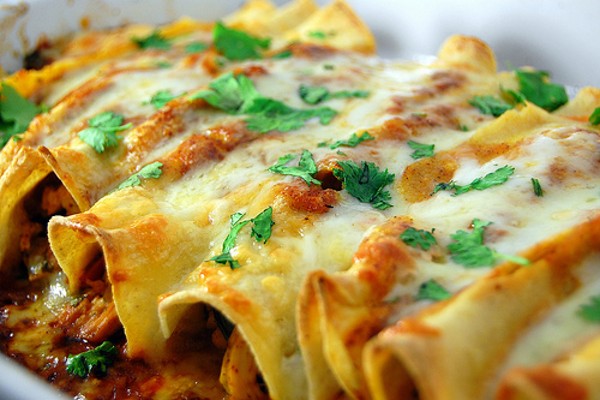 Don't you just love Mexican food? It's a real combination of flavors that have a little heat from Jalapeños and the sweet taste of cilantro.
With kosher Mexican restaurants popping up all over the place, I wanted to be able to also make it myself at home. You can go either dairy or meat. For this recipe, you can make it dairy too by using soy chicken cutlets available at the local kosher supermarket and that way you can use real cream cheese; you should also add 1 cup of mozzarella cheese into the mixture of your dairy version.
Fiesta Chicken Enchiladas:
1 small onion, chopped
1 clove garlic, minced
4 chicken breast cut into ½ inch pieces
1/2 cup corn
1/2 cup canned black beans, rinsed and drained
2 diced jalapeno peppers
1 cup Salsa, divided
¼ cup chopped cilantro
1 tsp. ground cumin
2 tablespoons minced red bell pepper
¼ cup parve cream cheese
8 flour tortillas (6 inch)
HEAT oven to 350°F.
HEAT large skillet with 1 tablespoon canola oil on medium heat. Add onions and garlic and cook until soft. Add chicken and cook until chicken is no longer pink inside. Add corn, beans and jalepeno peppers and sautee until soft for 2 minutes.
Then add 1/4 cup salsa, parve cream cheese, cilantro and cumin; mix well. Cook for 5 minutes or until heated through, stirring occasionally.
SPOON about 1/3 cup chicken mixture down center of each tortilla; roll up. Place, seam-sides down, in 13×9-inch baking dish sprayed with cooking spray; top with remaining salsa
BAKE at 350 15 to 20 min. or until heated through.
Serve with Guacamole and fresh salsa.
Perfect Guacamole:
2 ripe avocados
1/2 red onion, minced (about 1/2 cup)
2 cloves of garlic
1 jalepeno
1 handful cilantro leaves, finely chopped
1 tablespoon of fresh lime or lemon juice
1/2 teaspoon coarse salt
A dash of freshly grated black pepper
1 ripe tomato, diced (optional)
In a food processor add onions, garlic and jalapeño. Once it is smooth add rest of ingredients.
If you are using tomatoes fold it in by hand.