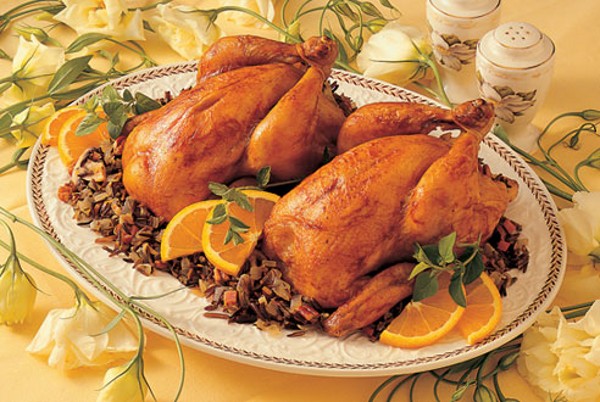 This recipe is fit for King Achashverosh himself (and also for Mordechai!). You can imagine yourself sitting at the palace (your house) and being served this really elegant dish at your own (Purim) banquet.
I always love making mini versions of dishes and this "mini chicken" is so elegant (and cute) to look at — and delicious to boot. The stuffing makes extra so you can serve it as a side dish too.
I am also sharing my children's favorite cocktail. We love to make it on special occasions, and Purim is a time when the children can have their own special (non alcoholic) drink.
Cornish Hen with Wild rice:
4 Cornish hens cut in half lengthwise
1-cup wild rice
1-tablespoon olive oil
2 cups chicken broth
½ cup celery thinly sliced
½ cup mushrooms thinly sliced
Small onion chopped
2-tablespoon teriyaki sauce
1-teaspoon soy sauce
2 cloves garlic
Cook the rice in the chicken broth and oil for 40 minutes with the lid on. After it has cooked remove from heat and let stand for 5 – 10 minutes with the lid on then fluff with a fork.
Heat a skillet with 1 tablespoon of olive oil and sauté celery, onion, mushrooms and garlic until soft. Add teriyaki and soy sauce. Remove from heat. Fold in the rice into the vegetables until well mixed. Set aside.
Preheat oven to 375 degrees.
Place hen halves, cut side down on a baking sheet covered with parchment paper and season with salt and pepper.
Place rice mixture under the skin of the Cornish Hen making sure it is well stuffed and not tearing through the skin.
Apple Glaze:
2-cup apple juice
8 tsp. cornstarch
2 Tbsp. brown sugar
1/2 tsp. ground cinnamon
In a small saucepan combine apple juice, cornstarch, brown sugar, and cinnamon. Cook and stir over medium heat until thickened and bubbly. Cook and stir for another minute. Remove from the heat.
Brush hens with glaze and cook for 40 minutes basting after 20 minutes.
Kids Purim Fun Drink:
12 oz pineapple juice
24 oz ginger ale
3 oz grenadine
Mix well, pour over crushed ice.
Garnished glass with a pineapple wedge, a cherry, and a straw.