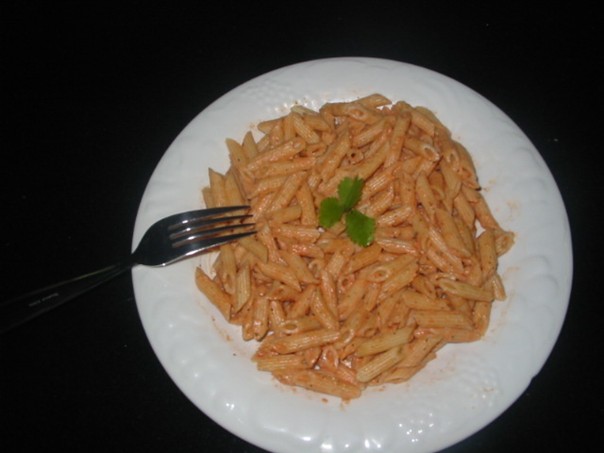 This recipe is dedicated to the girls in 8th grade at HALB who are always asking my daughter for her lunch leftovers. My daughter, Eliana, loves to cook but at the same time she is fussy. She really appreciates good food and is willing to go the extra mile by making something herself. For instance, on Thursday she brings her own lunch. She is like me, and cannot eat a sandwich that was made hours before, leaving the bread soggy. We had to come up with a plan that would satisfy her hunger and be delicious for a foodie like herself.
We decided to create a pasta dish. This dish is really about the sauce. You can use it with ravioli or pour over plain pasta. It's a really nice thick and creamy sauce that sticks to the noodles. My children love it and every Wednesday night my daughter, Eliana, makes a batch for her sisters and father to eat at school or at work. It's great at room temperature but even better warm. Definitely better than a sandwich!!!
NOTE: When I make it for dinner I serve it with homemade garlic bread, which complements it very well.
Rich and Creamy Pasta Sauce:
3 Tablespoons butter
¼ cup flour
1 clove crushed garlic
11/2 cups milk
14oz can tomato sauce
½ teaspoon basil
½ teaspoon oregano
½ cup mozzarella cheese
In a small saucepan over medium heat melt butter and add garlic. Then add the flour and stir for 2 minutes until a thick paste starts to form. Keep stirring constantly so it won't taste floury later on. Whisk in the milk and continue to stir until the paste turns smooth. Add the tomato sauce and the spices and cheese.
Stir on low heat until the sauce becomes thick and creamy. Season with salt and pepper to taste.
Pour over noodles, or ravioli.