A few weeks ago I bought tons of strawberries at Gourmet Glatt.  They had amazing first-rate strawberries which they had recently purchased from the fresh-produce markets (Ziggy, who runs the fruit department helps me pick the best fruits). My kids took some to school for snacks and I also served them for dessert at home.  However, I still had so much left over.  I just didn't have the heart to waste them so I began surfing the internet to learn about roasting strawberries.
After culling through numerous websites, I came across this recipe and after tweaking it somewhat, the results were unbelievable. My family already loves the three key ingredients individually: goat cheese, strawberries and balsamic vinegar, and they couldn't stop raving about it!  Try it out on your own family if you have the opportunity.
Wine note: I like to drink a white zinfandel with this.  Nice fruity blend of flavors that won't compete with each other.
Roasted Strawberries and Goat Cheese Salad
(adapted from closetcooking.com)
Ingredients:
8 ounces goat cheese or a large log of goat cheese
1/4 cup panko
2 cups fresh strawberries (stemmed and halved)
1 tablespoon honey
1 tablespoon balsamic vinegar
2 handfuls romaine lettuce (cut into bite sized pieces)
1 red onion
1 handful honey glazed pecans
1 tablespoon olive oil
1 teaspoon mustard
salt and pepper to taste
Directions:
Freeze the goat cheese for 20 minutes then slice the goat cheese into discs.
Press the goat cheese rounds into the panko crumbs and place them on a cookie sheet lined with parchment paper.
Bake the goat cheese in a preheated 425F oven for 6 minutes.
In meanwhile toss the strawberries in the honey and balsamic vinegar to coat.
Place the strawberries in a baking dish in a single layer lined with parchment paper
Roast the strawberries in a preheated 425F oven until slightly caramelized, about 10-12 minutes.
Pour the juices from the pan into a bowl and mix with the olive oil, mustard, salt and pepper.
Assemble salad and toss to coat with the dressing.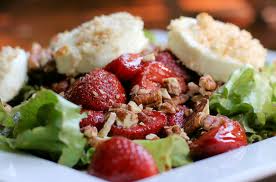 Roasted Strawberries and Goat Cheese Salad

White Zinfandel