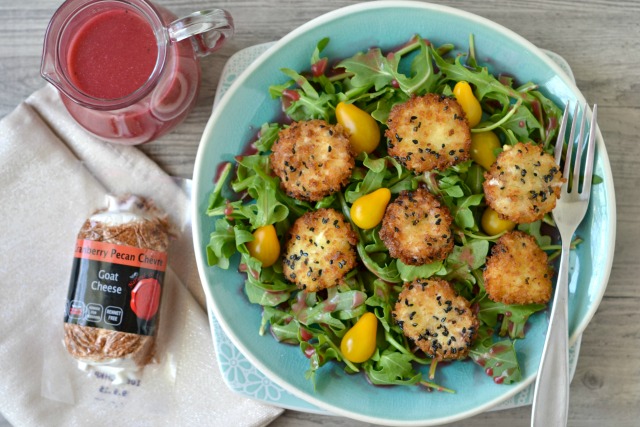 I love goat cheese in any shape or form. I have melted it into sauces, spread it on bread, or crumbled it on top of pasta. My favorite way to eat it, is in this salad. I make croutons out of the goat cheese and eat it with this delicious salad.
I recently discovered the Natural and Kosher brand, Cranberry Pecan goat cheese flavor. It's perfect for this salad adding another layer of flavor.
Fried Goat Cheese Salad with Raspberry Vinaigrette
Cheese mixture
2 packages Cranberry Pecan goat cheese (Natural and Kosher brand)
½ cup all purpose flour
2 eggs, beaten
3/4 cup plain panko crumbs
1 tablespoon black sesame seeds
1/4 cup canola oil
Set up three dishes on the counter: Fill the first with flour, the second with the egg and the third with the panko crumbs mixed with the sesame seeds.
Slice the goat cheese into quarter inch rounds and form each slice into disc about the size of a quarter. Coat each disc in flour, then in egg, then in the panko crumb mixture. Once they're all coated, set them aside while your pan heats up.
Place a sauté pan over medium heat and bring 1/4 cup oil to 360 degrees using an oil thermometer. Once the oil is hot, place the coated discs of goat cheese into the pan and cook until golden brown on both sides, about 1 minute. Drain on paper and cool. Set aside and prepare dressing.
Dressing
1 tablespoon shallots (about 1/2 a small shallot)
3 Tablespoon raspberry preserves
2 tablespoons balsamic vinegar
1/3 cup olive oil
Salt and ground black pepper
Place shallot in food processor and mince finely. Then add preserves and vinegar.
Then in a steady stream while machine is running add the olive oil. Add salt and pepper to taste. You can do this by hand with a whisk but it is a smoother consistency in a food processor.
Salad
3 cups mixed greens
½ cup honey glazed pecans or terra chip stixs, (optional)
Place salad greens on a large platter, add the cheese rings around them and drizzle with dressing.
Top with pecans or terra chip stix if using.