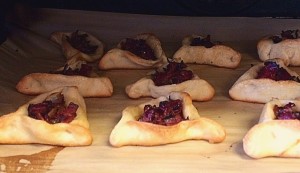 Everyone knows how much I love meat. Here is my Pastrami Hamentashen recipe that was inspired by my friend Leah Schapira of CookKosher. I don't have a particularly sweet tooth, so this recipe fills the need to make the iconic triangle shaped food we all eat on Purim. With these savory meat hamantaschen, you don't have to wait for dessert.
Ingredients:
3 tablespoons oil
1 large onion, diced
6 ounces chopped Abeles and Heymann pastrami
1 tablespoon mayo
1 tablespoon ketchup
1 tablespoon honey
1 squirt hot sauce
1/2 tablespoon soy sauce
1 pkg mini pizza dough rounds. (I used Mazor brand)
1 teaspoon cornstarch, dissolved in 3 tablespoons water
Directions:
1. Heat oil in a saute pan over medium heat. Add onion and saute until extra soft and golden, about 10 minutes.
2. Add pastrami and saute for 1 to 2 additional minutes. Stir in mayonnaise, ketchup, honey, hot sauce, and soy sauce.
3. Place 1 teaspoon filling in the middle of pizza round. Brush cornstarch mixture around the edges (this will help seal the hamantashen). Fold into hamantashen shape.
4. To bake the hamantashen, preheat oven to 400F. Place hamantashen on a lined baking sheet and spray the tops with nonstick cooking spray. Bake for 8 to 10 minutes or until golden brown.