I'm so excited and proud to announce that my debut cookbook is scheduled for release next week, Feb 26th. This book is a labor of love, with recipes culled from over two decades cooking and catering for Pesach. I have tested and retested each recipe, working hard to ensure that they will work out perfectly in your home kitchens. Each recipe is accompanied by a beautiful photo, taken by my super talented friend, Miriam Pascal, of OvertimeCook.com. I've also shared my cook's tips throughout the book, to help you get as excited about Pesach cooking as I am!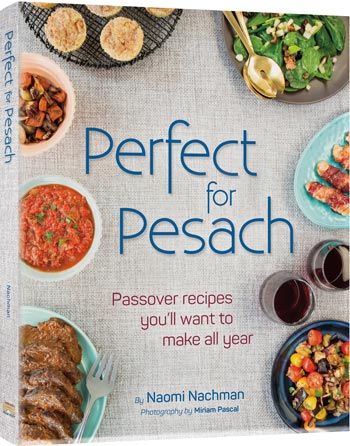 You can pick up a copy of my book wherever ArtScroll books are sold, or preorder your copy from ArtScroll or Amazon.
Upcoming Events:
YTT Expo Fountain Ballroom – Lakewood, NJ – Sunday 2/26 – come have a book and have it signed at the Mishpacha/Family Table Booth!
The Kitchen Clique Brooklyn, NY – Monday, 2/27 – 12 – 1 pm – Come buy a book and have it signed!
Launch Party at Gourmet Glatt Cedarhurst – Monday, 2/27 – 7 pm – come taste samples prepared by Chap-A-Nosh, watch me demo some recipes from the book, and get your book signed!
Wesley Kosher – Monsey/Wesley Hills, NY – Thursday, 3/2, 11-1 pm – Manischewitz Presents: Live Lunch with Nachum Segal –
Stay tuned for sample recipes and a giveaway!