I am so thrilled to share with you my newest cookbook, Perfect Flavors! Whether you're looking for elegant and sophisticated cuisine or a quick and wholesome meal, you'll find what you need among these delicious and doable recipes.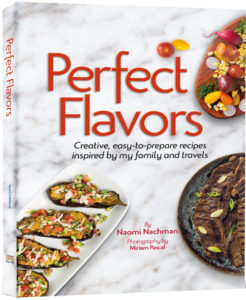 More than 130 fantastic, creative recipes, with tips and variations
Eye-popping photos by food photographer Miriam Pascal for every recipe
Tips to kitchen essentials, herbs, and spices
Detailed index
Buy the Cookbook!
You can buy the cookbook on Amazon or from Artscroll directly.
Get the Recipe
Here is one of my favorite recipes from the cookbook so you can try it out!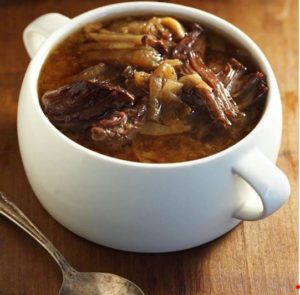 Crockpot Onion and Flanken Soup
Who doesn't love a big bowl of onion soup? However making it can be annoying, as you have to sauté the onions for a long time while stirring them. This recipe allows you to skip the sautéing, as your crock pot does all the work for you.
Yields about 8 servings.
Ingredients:
12 onions, cut into half-moons
1 Tablespoon kosher salt
½ teaspoon freshly ground black pepper
¼ cup oil
2 pounds bone-in flanken
4 cups beef, chicken, or vegetable broth
¾ cup red wine
¼ cup red miso paste
Directions:
Combine onions, salt, pepper, and oil in a crockpot; stir to combine.
Add flanken to the crockpot; cover with onion mixture. Cover; cook on high for 4-5 hours, until onions are golden brown.
Add broth, wine, and miso paste; stir to combine. Cook for an additional hour.