My daughter Gabi loves lemon curd, so I wanted to include a recipe for a lemon curd Passover dessert in my cookbook, Perfect for Pesach.
I love this version of the recipe because it has no margarine or hydrogenated oils. Layer the curd with crushed ladyfingers or cookie crumbs for a show-stopping dessert.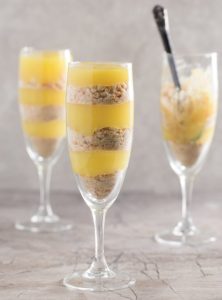 Mini Lemon Curd Trifles
Pareve – yields 6-8 servings – Freezer-friendly
Ingredients
1 cup lemon juice
1 cup sugar
2 eggs
2 egg yolks
• crushed (Passover) ladyfingers or cookie crumbs, for layering, optional
Directions:
1. In a small saucepan, combine lemon juice and sugar. Cook over low heat, stirring, until sugar has dissolved, forming simple sugar syrup. Set aside to cool completely at room temperature or in the fridge.
2. In a small bowl, lightly beat eggs and egg yolks. Slowly add beaten eggs into cold sugar syrup in the saucepan.
3. Heat over low heat for 5 minutes, stirring constantly, until bubbles begin to form at the edges. Do not bring to a boil.
4. Remove from heat; press through a strainer into a bowl to remove any curdled eggs. Set aside to cool.
5. Serve lemon curd in individual dessert cups, or layer lemon curd and crushed ladyfingers in tall glasses, as shown. Serve chilled.
Cook's Tip
Make sure the syrup is cold before you add the eggs, or the heat of the syrup will cook the eggs.
For more Passover recipes, check out my cookbook, Perfect for Pesach!