The 9 days can be a challenge of what to make for dinner. We all would like our dinners to have some variety and be nutritious, while not being a huge "patchke". Among all the food blogs, cookbooks, and articles in newspapers, there are a variety of fresh ideas for you and your family. I have adapted some of the recipes I came across during the year while looking for Shabbat meals, but I couldn't use them for Shabbat as they had some crucial milchig ingredients. I put together a few simple ideas for the 9 days or for any night you are looking for a dairy meal, snack or dessert. Also, I love making dairy desserts too. (Sometimes it's just worth the calories!)
Fiesta Chicken Enchiladas Dairy
Main course
1 small onion, chopped
1 clove garlic, minced
4 soy chicken breast cut into ½ inch pieces
1/2 cup corn
1/2 cup canned black beans, rinsed and drained
2 diced jalapeno peppers
1 cup Salsa, divided
¼ cup chopped cilantro
1 tsp. ground cumin
¼ cup cream cheese
8 flour tortillas (6 inch)
1 cup shredded mozarella
Serve with guacamole
Heat oven to 350°F.
Heat large skillet with 1 tablespoon canola oil on medium heat. Add onions and garlic and cook until soft.
Add chicken and cook until chicken warmed through. Add corn, beans and jalapeno peppers and sauté until soft for 2 minutes.
Then add 1/4 cup salsa, cream cheese, cilantro and cumin; mix well. Cook for 5 minutes or until heated through, stirring occasionally.
Spoon about 1/3 cup chicken mixture down center of each tortilla; roll up. Place, seam-sides down, in 13×9-inch baking dish sprayed with cooking spray; top with remaining salsa and grated cheese.
BAKE at 350 15 to 20 min. or until heated through.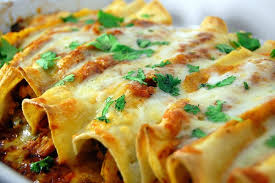 Fiesta Chicken Enchiladas Dairy
RICOTTA GNOCCI IN FRESH TOMATO SAUCE
Main course
 Gnocchi
1 pound firm ricotta cheese
1/2 cup finely grated parmesan cheese
½ cup plain flour
2 eggs, beaten lightly
1 tablespoon extra-virgin olive oil
 Sauce
4 medium tomatoes, chopped coarsely
4 scallions, sliced thinly
2 tablespoons coarsely chopped fresh oregano or 1 teaspoon dried
2 tablespoons extra virgin olive oil, divided
kosher salt, to taste
½ cup shaved parmesan cheese
Bring large saucepan of water to boil.
Meanwhile, combine ricotta, grated parmesan, flour, eggs and oil in large bowl.
Drop rounded tablespoons of mixture into boiling water; cook, without stirring, until gnocchi float to surface.
Remove from pan with slotted spoon; drained, cover to keep warm. The cooking process is fast so it only takes a couple of minutes.
Combine tomato, scallions, oregano, 1 tablespoon olive oil and salt in medium bowl. Top warm gnocchi with fresh tomato sauce; drizzle with remaining oil, top with shaved parmesan.
RICOTTA GNOCCI IN FRESH TOMATO SAUCE
Cauli"flour" Pizza –Gluten free pizza
Main course
1 – 28oz bag frozen checked cauliflower, partially defrosted
1 cup shredded mozzarella cheese, plus extra for topping
1 egg
Salt to taste
½ tsp Onion powder
½ tsp oregano
Marinara sauce
Assorted toppings
Grate the cauliflower in a food processor until it resembles small crumbs.
Place the cauliflower crumbs in a clean dish towel. I split it in half and use each half in its own dish towel.
Tightly wrap the cauliflower in a bundle and squeeze it dry. If it's still cold from being frozen let it sit out for another 20 minutes and squeeze it again. Try to make sure the cauliflower is very dry.
After the water has been squeezed out place it in a bowl and add the egg, cheese and spices. You can also choose to add in your own favorite spices. Mix it really well and will resemble"dough" like quality.
Form the dough into a pizza pan lined with  parchment paper and bake at 400 degrees for 15 minutes. It will start to tinge brown.
Take the pizza out of the oven and put on sauce, (like love gefen classic marinara), more cheese, and your favorite toppings.
Turn the oven on to broil and place the pizza under the broiler for another few minutes till the cheese melts and the toppings look like they have softened.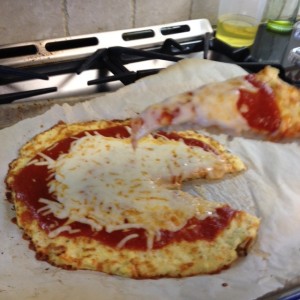 Cauliflower Pizza

Smoked Salmon and Avocado Salad with Feta Cheese
Side salad
 6 cups mesclun greens or 2 to 3 heads of romaine lettuce, shredded
½ pound smoked salmon, sliced thinly
2 medium avocados chopped coarsely
1 medium red onion, sliced thinly
½ block of Feta cheese, crumbled
1 cup red or yellow cherry tomatoes sliced in half
Handful of fresh blueberries (optional)
Dressing
2 tablespoons finely chopped fresh dill
1/3 cup fresh lemon juice
1 tablespoon Dijon mustard
2 tablespoons honey
2 gloves garlic, crushed
1 tablespoon white vinegar
1 tablespoon olive oil
crushed black pepper
Combine mesclun, salmon, avocado, onion, tomato, blueberries and feta in large bowl.
Whisk remaining ingredients in small bowl then pour over salad; toss gently and sprinkle on crushed black pepper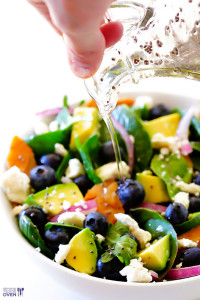 Smoked Salmon and Avocado Salad with Feta Cheese
Deep Fried Oreos (my favorite all time dessert)
Dessert
2 quarts vegetable oil for frying

1 large egg

1 cup milk

2 teaspoons vegetable oil

1 cup pancake mix

1 (18 ounce) package cream-filled

chocolate sandwich cookies (such as Oreos)
Directions:
Heat oil in deep-fryer to 375 degrees or use a small pot to heat the oil.
Whisk together the egg, milk, and 2 teaspoons of vegetable oil in a bowl until smooth.

Stir in the pancake mix until no dry lumps remain. Dip the cookies into the batter one at a time, and carefully place into the hot frying oil.

Fry only 4 or 5 at a time to avoid overcrowding the deep fryer. Cook until the cookies are golden-brown, about 2 minutes.

Drain on a paper towel-lined plate before serving.
Note: Use an oil thermometer to make sure the oil is at the perfect cooking temperature in the range of 360 to 375. If the heat of the oil is too low it will be soggy and too high it will burn.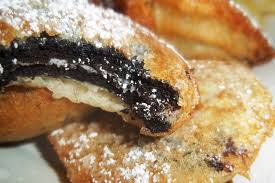 Deep fried oreo
Avocado Mousse on Quinoa Crackers
Appetizer or snack
Makes a great appetizer or snack. You can serve it as directed below or just place it in a bowl with a serving spoon.
2-3 large, ripe Haas avocado
½ small red onion
1/2 small lemon, juiced
1 teaspoon Dijon mustard
1/4 teaspoon salt
1/4 teaspoon black pepper
1/4 cup Sour Cream
quinoa crackers or your choice of crackers
Direction
1. Place the onion in a bowl of a food processor and chop until smooth. Then add the flesh of the avocado in with the onion and process again until smooth.
2. Add the lemon juice, mustard, salt, pepper and sour cream.
3. Process again until very smooth
4. Pipe through a pastry bag that has a "rose" tip   with a swirl action to make a rose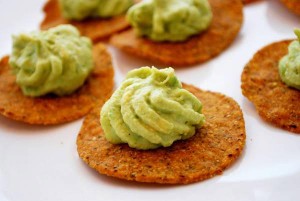 Avocado Mousse on Quinoa Crackers
Onion soup – The Famous Classic!
Soup
Ingredients
1 tablespoon butter
3 pounds yellow onions, peeled
½ tsp freshly ground pepper
salt to taste
2 Tbsp paprika
¼ cup flour
¼ cup miso
1 cup red wine
6 cups water vegetable broth (I use Trader Joe's Vegetable broth)
2 Tablespoon onion soup mix with no MSG
Serve with grated cheese on top of the soup as a garnish
1) Slice onions 1/8 inch thick.
2) Melt butter; add onions and sauté very slowly for 1 hour in a large saucepan.
3) Then, add pepper, salt, paprika, Miso and flour and sauté over low heat for 10 minutes.
4) Add water or broth and onion soup mix and wine. Simmer for 45 minutes.
If you want a stronger flavor add more onion soup powder.
The key to imitating the real beef flavor of traditional onion soup is adding the miso into the soup. It really enhances the flavor.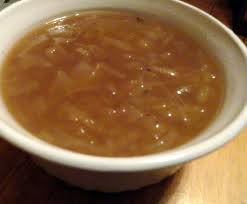 Onion soup
Curried butternut squash with goat cheese and nuts on Arugula
Side dish
1 medium-large butternut squash, peeled and cubed.
2 tablespoons olive oil
1 teaspoon curry powder (optional)
1 teaspoon cumin (optional)
Salt and pepper to taste
1 10oz log goat cheese
balsamic vinegar, to taste
1 Tablespoons honey
1 cup honey glazed pecans
3 cups arugula
Preheat oven to 450.
Toss together the butternut squash, olive oil, curry powder, cumin, salt and pepper on a cookie sheet lined with parchment paper.
Roast until fork tender and edges are tinged brown.
In meanwhile crumble the goat cheese into a salad bowl and add nuts.
Once the butternut is ready add it to the salad bowl with the goat cheese and nuts and add arugula. Drizzle with the balsamic vinegar and honey and toss gently.
Serve when the butternut is slightly warm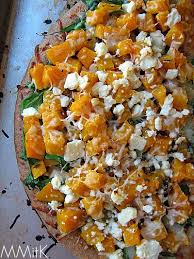 Curried butternut squash with goat cheese and spiced nuts on Arugula
Ricotta latkes
Side or main dish
 1 1/2 cups ricotta cheese
½ cup milk
½ teaspoon vanilla extract
2 eggs, separated
¼ cup sugar
1 cup flour
1 tsp baking powder
Pinch kosher salt
2 tsp canola oil
Place ricotta, milk, vanilla extract and egg yolks in a bowl and mix well.
Stir in sugar, flour, baking powder and salt and mix gently until smooth.
In a separate bowl beat egg whites to soft peaks, the fold them into the cheese mixture.
Heat oil in a 9 inch pan till oil is hot, drop 1/8 cup worth of batter into pan lower heat to medium and cook on both sides until brown. About 2 minutes per side.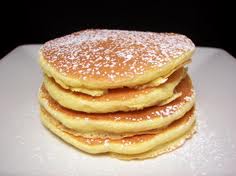 Ricotta latkes