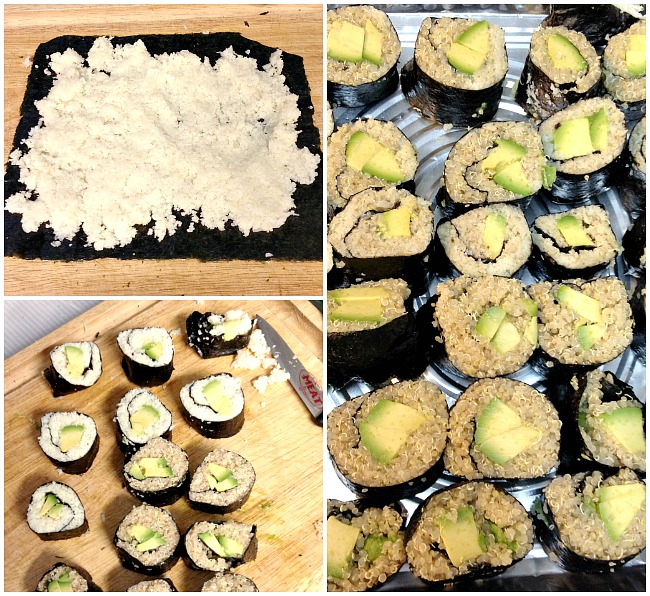 Who doesn't want to eat sushi all the time, right?? For the last 20 years sushi has become a staple at every Jewish simcha and kiddush.  Everyone seems to flock around the sushi station and fill up their plates.
But for Pesach, we feel the loss of not eating sushi for 8 days because rice is not permitted for those that don't eat kitniyot (grains and legumes such as rice, corn, soy beans, string beans, peas, lentils, mustard, sesame seeds and poppy seeds).
When the Orthodox Union certified quinoa for Passover last year, many people were so very excited to eat a this new food group during Pesach after 2000 years. This answered some questions about what to use as the "rice" for sushi, and opened up a possible avenue for kosher-for-Pesach sushi. However, not everyone uses quinoa due to different minhagim (customs).
I wanted to develop a sushi recipe for everyone to use on Pesach.  I came up with the idea of using cauliflower. People have been making cauliflower pizza, so I thought, why not use it as the "rice" for the sushi?  Once I got to the testing, I was very impressed with the carb-free results.
Now my family doesn't have to be deprived of sushi for 8 days! Makes a great appetizer, side dish or serve it as a main meal and watch your popularity soar!
Sushi Cauliflower "Rice"
2 large packages frozen bodek (checked) cauliflower
1 tsp sugar
1 tsp Passover soy sauce
1 tsp Passover vinegar
Grate the frozen checked cauliflower in a food processor until it resembles small crumbs. Place the cauliflower crumbs on a clean dish towel. Since there is a lot of cauliflower, you can split it in half and use two dish towels.
Tightly wrap the cauliflower in a bundle and squeeze it dry. If it's still cold from being frozen, let it sit out for another 20 minutes and squeeze again. Make sure the cauliflower is very dry.
Place the cauliflower in a bowl and add the sugar, Passover soy sauce and Passover vinegar. Mix well and then use it as rice for sushi.
Sushi Filling
Different filling options, which should all be cut into julienne strips. (long and thin)
Avocado, carrot, cucumber, salmon cooked or raw, tuna, spicy tuna, grilled chicken, sliced steak.
Basic Steps to Make Sushi Rolls:
Prepare cauliflower "rice" as directed above.
Put a nori sheet on top of a bamboo mat.
Spread the "rice" on top of the nori sheet.
Place the filling lengthwise on the rice.
Roll up the bamboo mat, pressing forward to shape the sushi into a cylinder.
Press the bamboo mat firmly and remove it from the sushi.
Cut the rolled sushi into bite-sized pieces. You can cut the sushi better if you wipe the knife with a wet cloth before you slice it.
Step by step picture method:
Place the Nori (shiny side down) on a sushi mat.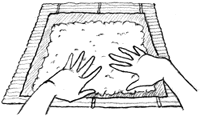 Take the rice and with moistened hands press it gently and evenly over the Nori, leaving a 1/2 to 1 inch space, the furthest end from you (the top) and about 1/4 inch from the end nearest you (the bottom).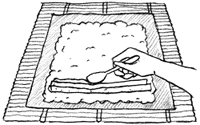 Take the filling and place it lengthwise about 1 inch from the bottom end of the rice.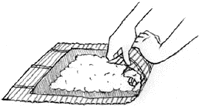 Start to roll up the sushi in the mat from the bottom, making sure the filling stays in place. Add firm pressure as you continue rolling and keep pulling the end of the sushi mat as you go along.
When you finish rolling, moisten the end of the Nori and press to seal along the length.
Take a very sharp knife and moisten. Slice the sushi into 6-8 pieces in a saw-like motion, wetting the knife between each slice (if you use a dry knife the Nori will tear).
To watch a great video on how to roll sushi click here.
Ideas for sushi fillings combinations. Use your imagination and go wild.
Charsoet roll (dessert roll)
Apples, grounds almonds, dash of cinnamon.
Chicken Caesar roll
Chicken, romaine lettuce, Caesar dressing
Grilled steak
Avocado, sliced steak, BBQ sauce and red onion