Each Shavuot meal we start off with Kiddush and then move onto our dairy courses.  Hopefully, the wines we choose for each course will bring out the very best in the foods we have selected to serve.  Last week on my radio show, "Table for Two with Naomi Nachman" on the Nachum Segal Network, we had a wine-and-cheese show featuring Jay Buchsbaum, from Royal Wine Corp. (which owns the Kedem, Bartenura and Herzog brands, just to name a few), and Brent Delman, The Cheese Guy.  Each of them brought in some amazing samples from their companies and we discussed wine and cheese pairings. You can catch the show on the archives (www.nachumsegal.com) and learn more about wine and cheese production too.
I have paired my family's favorite Shavuot recipes with some fantastic suggestions of wines.  Hope you enjoy!
Onion Soup – The Famous Classic!
The key to imitating the real beef flavor of traditional onion soup is adding miso into the soup.  This really enhances the flavor of the soup.
WINE: The wine I use in the soup recipe is Jeunesse, Carbernat Sauvignon, a young semi-sweet wine from California (Jeunesse means young, flavorful and fun). I then use the left-over wine from the bottle at the table for the first course.  The red wine is a great marriage of flavor in the soup and as accompaniment to the soup course.
Ingredients
3 pounds yellow onions, peeled and sliced
½ tsp freshly ground pepper
1 tablespoon butter
salt to taste
2 Tbsp paprika
¼ cup flour
1/2 cup miso
1 cup red wine
6 cups vegetable broth
2 Tablespoon onion soup mix with no MSG
1) Slice onions 1/8 inch thick.
2) Melt butter; add onions and saute very slowly for 1 hour in a large saucepan.
3) Then, add pepper, salt, paprika, Miso and flour and saute over low heat for 10 minutes.
4) Add water or broth, onion soup mix and wine. Simmer for 2 hours.
If you want a stronger flavor add more onion soup powder.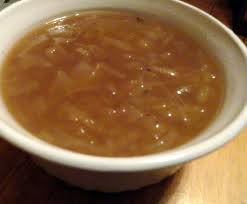 Onion soup
WINE: I am a big fan of white wines.  I recommend white wines with fish courses and salads.  I recommend serving Sauvignon Blanc, a dry white, an Israeli wine from Binyamina Reserve. This goes really well with this salad and gravlax and will combine all the delicious flavors of this recipe together.
Goat Cheese Salad with Raspberry Vinaigrette
1 log goat cheese about  10oz, grated or crumbled
2 heads romine lettuce, finely chopped
1 small red onion, sliced into half moon rings
handful of terra chip sticks
Quick and Easy Raspberry Dressing
1 bottle garlic expression salad dressing
12oz jar seedless raspberry jam
Blend dressing in a food processor until smooth, then add the jam and process until smooth
or
Homemade Raspberry Dressing
1 tablespoon shallots, finely minced
3 Tablespoon raspberry preserves
2 tablespoons balsamic vinegar
1/3 cup olive oil
Salt and ground black pepper
Place shallot in food processor and mince finely. Then add preserves and vinegar.
Then in a steady stream while machine is running add the olive oil.   Add salt and pepper to taste. You can do this by hand with a whisk but it is a smoother consistency in a food processor.
Salad
Place salad greens on a large platter, scatter red onions and terra chips sticks over the top.
Add the cheese around them and drizzle with dressing.
Toss and serve immediately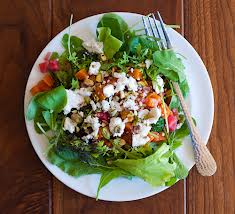 Goat cheese salad
Gravlax
2 sides whole salmon fillet (about 2 pounds per side)
2 Tablespoon salt
2 Tablespoon sugar
1 Tablespoon white pepper
1 large bunch dill
Place the two salmon sides, skin side down, on a large cookie sheet both sides next to each other. Set aside.
Mix spices together and sprinkle over both salmons, making sure there is thick coating over the entire salmon.
Place dill over spices covering the salmon flesh.
Place fish halves together one on top of the other, skin side out on both so the flesh is touching each other.
Cover the entire salmon tightly in heavy duty foil and place the cookie sheet in refrigerator for 2 days.  Place heavy weights (such as cans) on the covered salmon to weight it down. After 24 hours, turn the salmon over for another 24 hours.
After 48 hours, rinse off the dill. You can slice and eat it immediately or freeze the well-wrapped halves for up to a month.
NOTE: Best to slice slightly frozen in order to get thinner slices that way.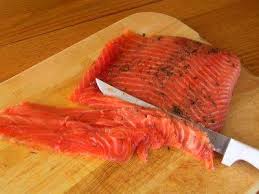 Gravlax
WINE: Dessert wines are my husband favorite.  His favorite is another wine from the Binyamina Reserve from Israel.  The Gewurztraminer Late Harvest.  It has a golden color and a fruity aroma that goes so well with a final course of cheese cake.
Chocolate Chip Cheese Cake with Oreo Crust
Crust:
2-3 cups Oreo cookies finely ground
Filling:
16oz Cream cheese approx
2 eggs
½ cup sugar
1 teaspoon lemon juice
½ teaspoon vanilla extract
½ cup chocolate chips (optional)
In a food processor chop up the cookies until you get a course crumble.
Press the crumble evenly into the bottom of an 8×8 square pan forming crust.
In medium bowl beat cream cheese, eggs, sugar, lemon juice and vanilla extract until smooth.  Slowly add in chocolate chips.
Pour in to prepared crust and bake 350 for 45 mins.
After 45 minutes shut off the oven and let the cheese cake cool inside the oven for another hour.  This prevents the top from cracking.
Remove and cool.  Chill until firm.
Garnish with broken Oreo pieces (pictured)