This week I did at cooking demonstration inside Gourmet Glatt,  a local kosher supermarket in my neighborhood.
I demonstrated these recipes, gave out tastings and handed out recipe cards.  In case you don't live near by here are the recipes.
Ragin Cajun Tilapia
½ cup corn starch
2 tablespoon Cajun Creole seasoning (pereg brand or similar)
Salt and pepper
1 Tablespoon canola oil
4- 6oz pieces of tilapia, salmon or flounder
Place corn starch, salt and pepper and seasoning in a small bowl and mix together.
Coat fish in the corn starch mixture and set aside.
Heat a sauté pan on medium heat and add oil.
When the oil is hot add the fish and cook the fish until it is flakey in the center.
Serve with store bought sweet salsa such as peach, or mango.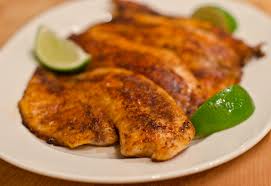 Thai Fish Fillets
Ingredients
1 (14-ounce) can coconut milk
2 cubes frozen minced ginger
2 cubes frozen minced garlic
4 cubes frozen minced cilantro
1 teaspoon curry powder
1 Tablespoon low-sodium soy sauce
2 tablespoon brown sugar
1 teaspoon sesame oil, toasted or roasted
1/2 teaspoon salt, divided
4 (6-ounce) tilapia fillets, flounder, salmon
Preparation
On a medium heat, place coconut milk in a small saucepan and bring to a simmer. Add ginger, garlic, and cilantro then stir and let it simmer for 3 minutes.
Add in curry powder, soy sauce, sugar, sesame oil, and bring to a simmer (do not boil). Remove from heat and let the ingredients infuse the coconut milk for 10 minutes.
Place fish on a baking sheet lined with parchment paper. Season with salt and pepper, pour sauce over fish and reserve some sauce for garnish.
Bake at 350 for 20 minutes or until fish flakes easily when tested with a fork.
Right before serving pour more warm reserved sauce over fish.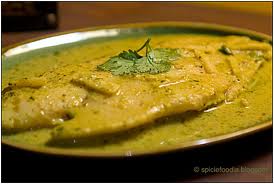 Crunchy salmon with tangy aioli
4 –portion salmon fillet
salt and pepper
½ cup tablespoons mayonnaise
1/2 sweet chili sauce
1 cup French's French Fried Onions or similar brand
Instructions
Place the salmon skin side down on a cookie sheet lined with parchment paper container.
Season the fish with salt and pepper. Set aside.
In a small bowl, combine mayonnaise and sweet chili sauce.
Generously spread the mayonnaise mixture on top of the fillet.
Sprinkle the onion rings on top making sure the all salmon is covered
Bake at 350 for 20 minutes
Check the center of the fillet for readiness with a fork (it should be flakey).