I love the whole summer outdoor eating experience.  I really enjoy BBQ's and picnics, and the eating outdoors concept is fabulous and exciting to me.  However, in New York, due to our climate, we have a limited time-frame to enjoy BBQ's and eating outdoors.  Because I love BBQ food so much and would love to enjoy it all year, I decided to explore some options.  One idea that I came up with is to slow-roast ribs overnight in the oven.  It was soooo good and it tastes like I am having a BBQ during the year!  It's so easy to make; I can even throw it in the oven before I head out for the day, and not worry about it – very similar to a crock pot concept.
When I want to serve this dish for Shabbat lunch, I cook it for 1-½ hours at 350 degrees on Friday afternoon covered, then I place it in the oven right before Shabbat at 200 degrees.  I take it out in time for lunch the next day.  It's similar to the Yaptzik idea.
 16 HOUR SMOKEY OVEN ROASTED RIBS
1 4-5 pound side of Ribs.
1 large onion, sliced
2 tablespoons dijon mustard
1 tablespoon extra-virgin olive oil
2 tablespoon liquid smoke
1 tsp kosher salt
Crushed black pepper
1 tsp paprika
1 tsp onion powder
1 tsp cumin
6 cloves garlic crushed
1 cup ketchup
1 cup red wine
Pre heat oven to 200 degrees.
Place onions on the bottom of a large roasting pan.
In a small bowl take mustard, garlic, oil and spices and mix them together to form a paste.
Rub the paste all over the meat.
If you have time, let the meat stand at room temperature for one hour to absorb some of the flavors.
In a separate bowl mix the wine and ketchup and pour over the meat right before placing in the oven.
Cover the meat really well and place in the oven for 16 hours.
Note: I put mine in the oven at 7pm at night and take it out the next day around lunch time.
I then let it cool and place in the fridge. Around dinner time I take it out of the fridge, skim off the fat and warm it up for dinner.
Any left overs go really well inside my hubby's sandwich for lunch the next day with Abeles and Heymann sweet and tangy mayo, and marinated coleslaw. (Recipe follows)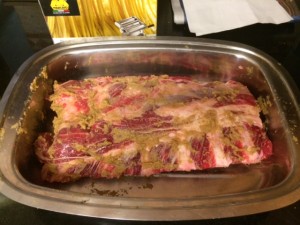 Ribs with rub before cooking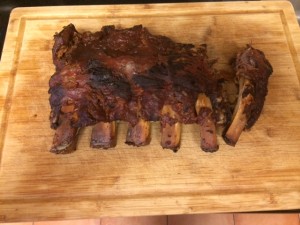 Ribs after 16 hours in the oven
Marinated coleslaw- The perfect side dish
Vegetables
1 shredded cabbage, finely chopped
2 carrots, shredded
4 scallions, finely chopped
Dressing
3/4 cup white vinegar
1 teaspoon kosher salt
1 tbsp brown sugar (taste)
1 teaspoon celery seeds
1 tablespoon dijon mustard
3/4 teaspoon garlic powder
2/3 cup vegetable oil
1/2 cup white sugar
black pepper (optional)
Directions:
In a large bowl, mix the vegetables together.
Mix first 6 dressing ingredients together in a small saucepan; bring to a boil.
Remove from heat then immediately add in the oil and white sugar; mix to combine until the sugar is completely dissolved, then pour the hot mixture over the veggies.
Allow to sit out at room temperature for 1 hour stirring occasionally with a spoon.
Cover and refrigerate for 24 hours stirring occasionally.
Season with freshly ground black pepper (if desired) before serving.