Now that summer is almost in full swing, I am looking to make light, healthy, delicious dinners.  I came across an article last week from a magazine that I subscribe to called Southern Living.  It's a great magazine with real southern charm.  It features tips on hospitality and cooking, and always has some interesting tidbit regarding Southern culture. Recently, they featured two recipes that I wanted to try: Baked Zucchini Chips and Frozen Fruit Pops.  These encapsulated my idea of healthy, light dinners. My kids are always freezing the fresh fruit that I buy and making smoothies out of them.  I thought Frozen Pops was a great twist on that snack and also makes a great breakfast idea too.
Here is a great dinner menu for a weeknight supper that is also festive.  Who doesn't want to eat chips for dinner?
Note: serve with a bottle of Baron Herzog Orange Muscat for a wonderful integration of tastes.
Pistachio pesto salmon
1/8th cup Ossie's pesto sauce available at Gourmet Glatt
1/8th cup mayonnaise
1 cup shelled salted pistachios, crushed
½ cup brown sugar
2 tablespoons fresh lemon
2 pounds salmon fillet (one whole side of a salmon)
Mix the pesto and mayonnaise together in a small bowl.
Place the salmon on a large baking sheet lined with parchment paper.
Spread the pesto mixture over the fish and set aside.
In a food processor crush the nuts until they are course ground but not too fine, then and add the brown sugar and lemon. It should look like wet sand.
Pat nut mixture on top of salmon and bake for 25 minutes at 350 degrees.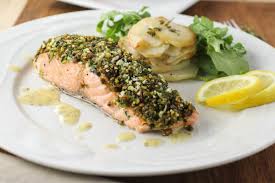 Baked Zucchini Chips
This recipe can also be made gluten free by using Jeff Nathan's gluten panko.
Adapted from Southern Living Magazine
Ingredients
1/2 cup panko (Japanese breadcrumbs)
1/4 cup loosely packed fresh basil leaves
1/4 teaspoon kosher salt
1/4 cup finely grated Parmesan cheese
1/2 pound zucchini, cut into 1/4-inch-thick rounds
1 tablespoon olive oil
Vegetable cooking spray
Preparation:
Preheat oven to 450°. Process first 3 ingredients in a food processor 10 to 15 seconds or until finely ground. Stir together breadcrumb mixture and cheese in a medium bowl. Toss zucchini rounds with oil. Dredge zucchini, 1 round at time, in breadcrumb mixture, pressing gently to adhere. Place rounds in a single layer in a jelly-roll pan coated with cooking spray. Bake 30 minutes or until browned and crisp. Serve hot and immediately.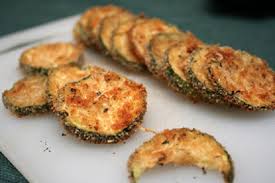 Creamy Frozen Fruit Pops
Also makes a great fun breakfast. You can also use your favorite fruit. I toss in mango or pineapple too.
Ingredients
1 1/4 cups frozen raspberries
1 1/4 cups sliced fresh strawberries
1/4 cup honey
1 tablespoon fresh lemon juice
1/8 teaspoon table salt
1 (7-oz.) container low-fat plain Greek yogurt
2 tablespoons milk
Preparation
Process fruits, honey, lemon juice, and salt in a food processor until smooth. Stir together yogurt and milk. Fold yogurt mixture into fruit mixture. Pour into 10 (2-oz.) pop molds. Top with lids; insert craft sticks, leaving 1 1/2 to 2 inches sticking out of pop. Freeze 4 hours or until sticks are solidly anchored and pops are completely frozen.
Note: If you don't have pop molds you can freeze them in paper cups.