I recently was lucky enough to vacation in Hawaii. It's a beautiful part of the world and we really enjoyed ourselves. Any time I travel, I love to explore and research the local cuisine. Even though Hawaii has no kosher restaurants (yes, I had to schlep all my own food!), I took the time to go to the local supermarkets and small grocery stores as well as the local farmers' markets. We found a quaint yet bustling farmers' market on the island of Kaua'I, where we were able to sample many exotic indigenous fruits (the shehechiyanus were flying!).
I noticed at all these food markets and stores they sold something called Poke (which is a dish made from tuna). As tuna is a kosher fish, I was excited that I could try to make my own version of this when I returned home. I researched the recipes, and I also interviewed a number of Hawaiian chefs how Tuna Poke is made and the history of the dish. Below are some facts that I learned:
Hawaiian Poke History: (adapted from www.whatscookingamerica.net)
Poke (pronounced POH-kay) is served in most Hawaiian homes and restaurants as a side dish, and no gathering in Hawaii would be complete without a few bowls of Poke. In Hawaiian, Poke means "cut piece" or "small piece." Poke is bite-size pieces of raw fish doused in seasonings. Poke is actually the Hawaiian version of the elegant Japanese sashimi (a combination of the Hawaiian and Japanese taste for raw fish).
For centuries, Hawaiian fishermen cut their catch of raw fish into cubes and seasoned it with whatever ingredients they had available. Modern versions make use of seasonings brought by the many different cultures of the Hawaiian Islands, such as soy sauce, onions, tomatoes, and chilies. Poke is so common in the Hawaiian culture that you can stop at a local grocery store and choose from several freshly made varieties.
Poke is considered a local food or "local grind" – comfort food to the Hawaiians. Normally local food is not the cuisine that is served in upscale hotels and restaurants of Hawaii, but Poke has crossed such boundaries. It was not until the 1970s that the recipes for Poke started appearing in cookbooks.
Ahi Tuna Poke Recipe:

Ingredients:
2 pounds fresh or sashimi-grade Ahi tuna steaks, cut into bite-size pieces*
1/2 cup soy sauce
3/4 cup chopped green onions (tops included)
2 tablespoons sesame oil
1 tablespoon grated fresh ginger
1 to 2 chile peppers cored, seeded, and finely minced
Coarse salt to taste
1 tablespoon toasted sesame seeds**
1 tablespoon finely-chopped toasted macadamia nuts***
Boy choy or romaine lettuce leaves
* If you cannot buy freshly caught fish, purchase only fresh sashimi or sushi-grade fish. Look for tuna fillets that are bright in color, not dull or darkened or dry looking. Buy loins or thick fillets (at least one-inch thick).
** To toast sesame seeds: Place sesame seeds in a small dry saucepan over medium heat; stirring occasionally, toast 3 minutes or until golden brown (watch closely as seeds burn easily).
*** To toast whole macadamia nuts: spread whole nuts on a baking or cookie sheet and toast in a preheated 300 degree F. oven for 5 to 8 minutes or until lightly browned (watch closely as nuts burn easily).

Preparation:
In a large bowl, combine tuna, soy sauce, green onions, sesame oil, ginger, chile peppers, salt, sesame seeds, and macadamia nuts; mix lightly. Cover and refrigerate at least 2 hours before serving.
To serve, tear lettuce leaves into comfortable holding sizes and spoon approximately 3 tablespoons of poke onto each piece. either eat with your fingers or use a fork or chopsticks.
Makes 4 to 6 servings.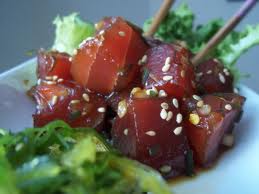 Tuna Poke