Many mothers are being constantly challenged each night to come up with a dinner that is tasty and nutritious while offering a variety from the previous dinners. One of the keys to being successful at this task is to beef up (no pun intended!) your dinners with great side dishes. I have put together three amazing side dishes that will enhance any weeknight dinner (Shabbat or Yom Tov too).
The key to any great dish is fresh ingredients. Small things like fresh lemon or limes, fresh garlic and fresh vegetables will help make your recipes pop and the family will be excited to eat your meal.

Broiled Asparagus with Lemon & Toasted Almonds
Note:checking for bugs in asparagus can be difficult. I buy mine pre-checked from Gourmet Glatt
2 bunches asparagus, medium
2 tablespoons olive oil
1 lemon, sliced in half
1/4 cup sliced almonds
Kosher salt and pepper
1. Preheat broiler.
2. Cut off the woody ends of the asparagus. Place asparagus on the cookie sheet and drizzle with oil, salt & pepper. Toss to coat.
3. Place asparagus into broiler. After three minutes, shake the pan to turn the asparagus. Asparagus are done when you can gently pinch them between your thumb and finger, and they give a little bit without being to limp (approximately 6-8 minutes).
4. Place the almonds in a sauté pan and toast over medium heat. Remove from pan when they become fragrant and start to brown, about 5 minutes. Shake pan occasionally to keep from burning.
5. Place asparagus onto a platter. Squeeze lemon juice, and then sprinkle almonds over asparagus.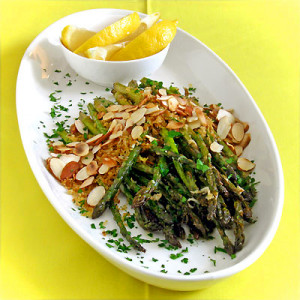 Grilled Sweet Potatoes with Scallions
3 sweet large potatoes peeled and cut into ½ inch thick slices wedges
1/3 cup extra virgin olive oil, divided
1 teaspoon cumin
½ teaspoon cayenne pepper
2 teaspoons salt
4 scallions, sliced ¼-inch thick on the bias
juice of 1 lime, plus lime zest
1. Preheat grill.
2. Toss sweet potatoes with half the oil, cumin, cayenne and salt. Grill until the sweet potatoes have browned, about 8 minutes. Flip and continue cooking until both sides are colored, and the sweet potato has cooked through.
3. Meanwhile, in a large bowl, combine remaining oil, scallions, lime juice and zest. When sweet potatoes have cooked, remove them from the grill and toss them with the vinaigrette. Season to taste, serve warm or cold.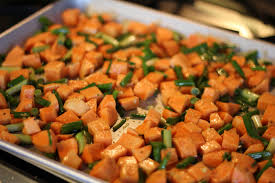 Spicy Savoy Slaw
5 tablespoons rice vinegar
1 tablespoon sugar
½ teaspoon salt
¼ cup low fat mayonnaise
1 tablespoon soy sauce
1 jalepano, diced very small
1 teaspoon finely grated peeled ginger (or one cube frozen)
1 ½ teaspoons toasted sesame oil
1 package checked cabbage that has carrots in it
¼ pound snow peas, trimmed and very thinly sliced lengthwise (1 cup)
¼ red bell pepper, cut into thin matchsticks
Handful cilantro or parsley finely chopped
1. Whisk together vinegar, sugar, salt, mayonaiise and soy sauce in a large bowl until sugar and salt are dissolved, then whisk in the chile, ginger and sesame oil.
2. Add remaining ingredients and toss well. Let stand, uncovered, at room temperature, tossing occasionally, until wilted, about 30 minutes.