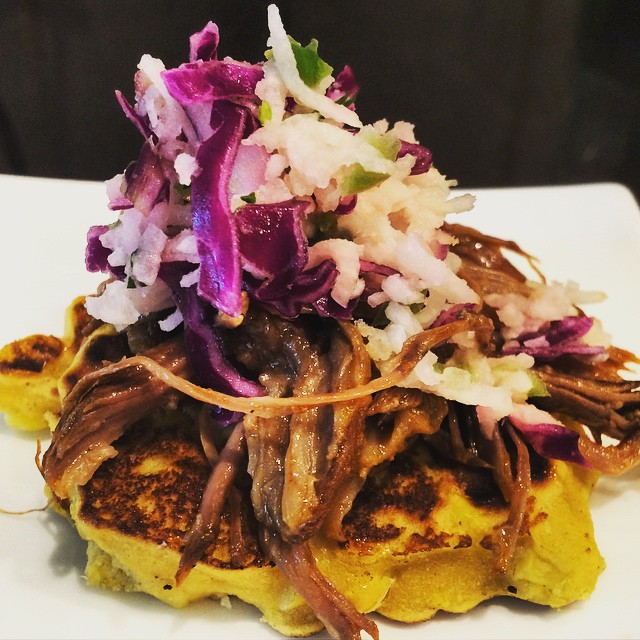 I am constantly striving to develop new recipes for appetizers for my family and guests, as well as for my catering business. In addition to being tasty, I want the dishes to look scrumptious as well – since, as the expression goes, "you eat with your eyes". The combination of the corn with the pulled beef and jicama result in a terrific marriage of flavors, as well as also being "pretty". Even though three separate recipes are required to create this dish, it is totally worth the effort.

Corn Fritters with Pulled Brisket and Spicy Jicama Slaw
Pulled brisket can be braised in advance – allow total 5 hours for cooking and prep time. While your brisket cooks, prepare the fritters and jicama slaw. Left over brisket will also be delicious in a sandwich with some left over jicama slaw.
Yield: 10 appetizers

Pulled brisket topping
Note: brisket will yield lots of extra topping and can be used for future use. Place in a zip lock bag and freeze.
1 (3-4 pound) second-cut brisket
2 tablespoons Pereg BBQ spice mix
1 cup BBQ sauce (I prefer Sweet Baby Ray's)
1 cup red wine
Preheat oven to 325 degrees.
Liberally season the brisket with the spice mix on both sides, rubbing to coat evenly. Place in brisket in roasting pan.
Pour BBQ sauce over the top of the meat; then add the wine.
Cover the pan very tightly with foil and bake for 4 hours. To prevent meat from drying out, check to make sure there is some liquid left in the pan after three hours of cooking time. If the meat is dry, add a little more water or wine to the pan.
After four hours, remove meat from oven; cool for half hour. Drain the meat from the liquid and use a fork or your fingers to shred the brisket apart. Set pulled brisket aside.
Corn Fritters
1½ cups corn flour*
1½ teaspoons baking powder
1 teaspoon salt
1/8 teaspoon cayenne pepper
4 tablespoons margarine
1 cup almond milk
1 tablespoon honey
2 cups fresh or frozen corn kernels
2 egg yolks
3 egg whites
Canola oil for frying
Whisk together the corn flour, baking powder, salt and cayenne pepper in a large bowl; set aside.
In a small saucepan, heat the margarine, almond milk and honey over medium heat until the margarine is melted and mixture is well blended. Remove from heat; cool mixture slightly. Make a well in the center of the dry ingredients and stir in the milk mixture, 2 egg yolks, and corn.
In a separate, clean, dry bowl, use an electric mixer to beat egg whites until they are stiff and hold their shape. Gently fold them into the corn mixture until completely incorporated.
Heat a large non-stick skillet or griddle over medium-high heat. Add 1-2 tablespoons oil, swirling to coat pan. When hot, spoon batter (about ¼ cup measure per fritter) in mounds onto the skillet, spacing at least 1 inch apart – make as many in each batch as will comfortably fit in the pan.
Cook the corn cakes until browned on the bottom, then flip the corn cakes with a spatula and cook on the other side until lightly browned – about 1 minute per side. Transfer corn cakes to a platter; repeat with remaining batter.
*Note: Corn flour is not the same as cornmeal; it is very finely ground corn. I use Bob's Red Mill brand, which can be found online or locally at Gourmet Glatt.
Jicama slaw
1 large jicama, peeled and cut into large chunks
½ small head purple cabbage
1 small jalapeno, seeds and ribs removed
½ bunch cilantro or parsley leaves
Dressing
Juice of 3 limes
1 teaspoon salt
1 teaspoon freshly ground black pepper
1 teaspoon sugar
½ teaspoon chili powder
3 tablespoons olive oil
In a food processor, shred the jicama, cabbage, and jalapeno.
Place the shredded vegetables into a medium bowl; set aside.
In separate small bowl, whisk together all dressing ingredients until well blended. Pour dressing over the vegetables at least 1 hour before serving. Toss to blend and coat with dressing.
Assembly:
Place a warm corn fritter on an appetizer plate. Place a heaping spoonful of warmed brisket on the fritter, then top with the jicama slaw, mounding to build some height on the appetizer. Repeat with remaining ingredients. Garnish each plate with thin slice of lime.