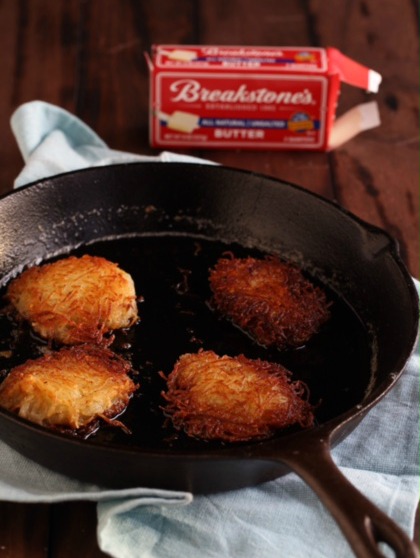 In my opinion, there is nothing better than butter.  I have always believed in the slogan that Butter is Better! I use butter whenever I can to give my (dairy) food that extra boost of creamy, buttery flavor. In honor of Chanukah, I thought I'd try experimenting by frying my latkes in butter.  The results were spectacular. I partnered up with Breakstone's Butter to bring you this fabulous dairy latke recipe. #ad #sponsor
Buttery Potato Latkes
6 Yukon Gold potatoes, shredded
1 Tablespoon salt
2 tablespoon grated parmesan cheese
2 tablespoon oil
1/2 stick Breakstone's Butter
Heat a large frying pan on medium heat and add the butter and oil to slowly melt the butter.
Mix the potatoes, salt and cheese in a medium bowl.
Once the butter has melted, and a take cup measure of the potato mixture and squeeze it dry with your hand to release all the water.
Place the potatoes in hot butter and fry for about 5 minutes on each side or until golden brown.