I love to make dips for Shabbat, so why not have it on Pesach too? The key to having great dips is the fresh ingredients: including garlic, lemons and cilantro.  With the introduction of so many spices that are kosher for Pesach, you can also spice up your palate by adding cumin, cayenne and pepper to your Pesach dips.

Matbucha
1-tablespoon olive oil
1 large onion cubed
4 garlic crushed
1 can 28oz-crushed tomato
1 can 14oz can diced tomato
1 bunch chopped cilantro finely diced
1-tablespoon cumin
¼ cup sugar
Dash cayenne pepper
Salt & pepper to taste
Sautee onion in a tablespoon olive oil until onions are soft and translucent.
Add both cans of tomatoes, and cook for 10 minutes.  Then add the cilantro, cumin, sugar and cayenne pepper.  Stir gently and cook until cilantro has wilted into the recipe. 
Season with salt and pepper.
Cook for 15 minutes until reduced down and flavors are concentrated. Adjust any seasoning to your family's palate.
Matbucha Dip
Pesach olive dip
3 cloves crushed garlic
2 19oz cans green pitted sliced olives
1 19oz can Israeli pickles
½ cup pickled red peppers
1-teaspoon cumin
Dash cayenne pepper
2-tablespoon olive oil
Mix all ingredients in a food processor until blended.  It shouldn't be too smooth like a paste but it should have a little texture.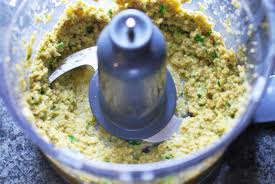 olive dip
Marinated Eggplant
This recipe is from my mother, Miriam Stein, from Sydney, Australia.  I asked her if I could print the recipe but she only had it in her head.  She just told me that she makes it by adding a little of this and a little of that.  You know the Yiddish expression: "shitz arein".  I had to figure out the amounts of each of the ingredients, but after experimenting and some further adjustments and tweaks, I was able to reconstruct her recipe. 
1 large eggplant
Canola oil for frying
Fist full of parsley finely chopped
1 cup Ketchup
4 Tablespoon sugar
½ lemon, juiced
4 cloves garlic crushed
salt and pepper to taste
Sliced eggplant into ¼ inch rounds
Heat a large fry pan and fry eggplant in batches until light to medium brown.
Drain the eggplant in a colander to let the oil drip out.  (Yes it's fattening but totally worth it).  I leave a plate underneath the colander to catch the oil.
Sauce
In a medium bowl mix all the ingredients together.
Once the eggplant has drained for an hour you can add it gently into the sauce being careful not to break up the eggplant slices.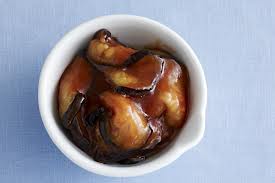 Eggplant dip