Hush Puppy Patties for Pesach
This recipe is so versatile, as it can replace a hot dog in a bun as a meal. You can also use it as a side dish, appetizer and a snack to tide the kids over between the long stretches of time between lunch and seder or dinner on yom tov. You can also serve also funky dipping sauces that you can buy in Gourmet Glatt, such as Dougie's wing sauce, sweet chili sauce or just plain old ketchup. I use Abeles and Heymann hot dogs as they are the tastiest and use the highest quality meats in their products.
6 large Idaho potatoes, peeled chunked
4 medium eggs, divided
3 Tablespoon potato starch
3 Tablespoons mayonnaise
½ teaspoon garlic powder
2 teaspoon salt
pinch white pepper
2 Abeles and Heymann hotdog or garlic sticks, sliced thinly about (1/2 an inch)
Method:
Boil the potatoes in a medium pot until fork tender.
Drain, and mash the potatoes well in a bowl.
Add 3 eggs, potato starch, mayonnaise, salt and pepper mix well and then set aside.
On a cookie sheet lined with parchment paper, take a small scoop of the potato mixture and place it on the cookie sheet. Place in the center of each potato mound, a slice of the hot dog burying each slice so you can't see it.
Whisk the remaining egg and brush each potatoes mound.
Bake at 350 for approximately 40 minutes.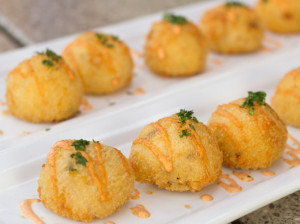 Hush puppy patties with spicy mayonnaise