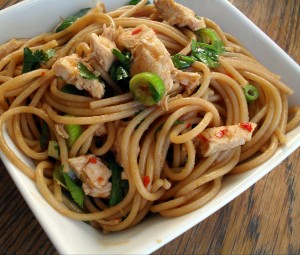 This is one of my favorite dishes to make for the family for  Shabbat. It has a few simple ingredients that I always have in the house (no running to the supermarket!) This recipe doubles easily and lasts a few days in the fridge. If there's ever anything left, the kids fight over who gets to take it to school for lunch!
If I do happen to "hide" the left overs, on Sunday night I will saute onion and extra chicken from Shabbat and add it to the noodles for a delicious, recreated new dinner.
Recipe:
1 pkg angel hair pasta cooked according to directions
Dressing:
½ cup low sodium soy sauce
½ cup roasted or toasted sesame oil
1/3 cup sugar
1/8 teaspoon cayenne pepper (optional)
1 Tablespoon crunchy peanut butter
Mix all dressing ingredients in a bowl.  I do it in a food processor to make it smooth.  Or can use a bowl and a whisk (less dishes to wash!)
Pour the dressing over pasta while the pasta is still warm it helps boost and absorb the flavor if pasta is still warm.