I am constantly challenged to come up with new ideas for Pesach. I try to create original sensational recipes with fresh new ideas for my clients as well as for my family. This recipe was a really big hit with my tasters (i.e., my family, who are my biggest critics!). My husband loves almost anything with pistachios.
The marriage of flavors and textures between the creamy chrain kick and the crunchy salty and sweet nut mixture makes this dish a real winner.

Nut crusted salmon with creamy chrain sauce
1/8th cup red horseradish
1/8th cup mayonnaise
1 cup shelled salted pistachios
½ cup brown sugar
2 Tablespoon lemon juice
2 pounds salmon fillet (one whole side of a salmon)
Mix the horseradish and mayonnaise together in a small bowl.
Place the salmon on a large baking sheet lined with parchment paper.
Spread the mixture over the fish and set aside.
In a food processor crush the nut until they are course ground but not too fine. Add in the brown sugar and lemon juice and mix until it looks like wet sand.
Pat nut mixture on top of salmon and bake for 25 minutes at 350 degrees.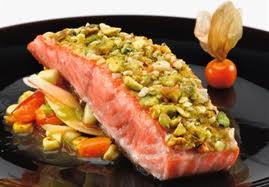 SWEET AND SOUR TILAPIA (OR SALMON)
This salmon recipe is very family friendly, doubles easily and freezes well.
1-2 pounds Tilapia cut in half lengthwise
½ cup matza meal (optional)
Salt and pepper
Oil for pan searing
2 onion cut into rings
2 cloves garlic crushed
1-cup ketchup
¾ cup brown sugar
Pinch cinnamon
1 can pineapple chunks with syrup
4 carrots sliced into rings
1 Tablespoons potato starch
2 cups water, divided
Rinse then pat the fish dry. Mix the matza meal together with salt and pepper. Dip fish in mix and shake off excess. If you are not using matza meal, just salt and pepper the fish.
Heat oil in a fry pan and pan sear the fish until golden and crisp about 2 minutes on each side. Drain on absorbent paper.
Slice the onions thinly and sauté with garlic until soft. Add ketchup, pinch cinnamon, brown sugar, can of pineapple chunks with the liquid, and ½ the water. Bring to boil and simmer for 5 minutes. In a separate bowl combine the potato starch and remaining water until all clumps are dissolved and add to simmering sauce. Bring back to boil until sauce thickens stirring constantly. Season with salt and pepper to taste.
Place fish in casserole dish and pour over sauce and bake for 15 minutes at 350
Middle Eastern White Fish
This recipe bursts with Israeli flavors. If you like it spicy add more cayenne pepper. It's delicious hot or cold.
Can also use tilapia, or salmon
8 slices white fish
2 Tablespoons olive oil
1 large onion, diced
1 teaspoon of cumin
¼ teaspoon cayenne pepper
3 gloves garlic, minced or 4 cubes from frozen package
2 Tablespoons fresh cilantro or 6 cubes from frozen package or parsley
1 Plum tomato, diced
14oz can tomato sauce
Kosher salt to taste
Water
Heat a large sauté pan for a minute and the add oil. Add onion and sauté until soft. Add
Place fish fillets on top of mixture. Cook for a few minutes and turn to coat other side and cook for another 3 minutes.
In a small bowl mix cumin, cayenne pepper, garlic, cilantro or parsley, plum tomato, tomato sauce, and salt. Pour over fish in sauté pan. Add enough water to cover fish (not more than 8oz). Cook for another 15 minutes until fish is cooked through.